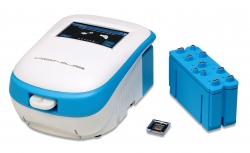 Redwood City, CA, February 18, 2014 --(
PR.com
)-- GenapSys Inc. unveiled the GENIUS 110™ Next Generation DNA Sequencing System at the AGBT (Advances in Genome Biology & Technology) sequencing technology conclave held on Marco Island, FL. Dr. Hesaam Esfandyarpour, founder and ceo, presented the revolutionary GENIUS DNA sequencer with a footprint no bigger than an Apple® iPad® and that promises to make DNA sequencing widely available to individual researchers and diagnostic laboratories for the first time.
Dr. Esfandyarpour invited individual researchers, industry professionals and assay developers to apply for
GENIUS Club™ membership
(www.genapsys.com/genius-club/), an early access partnership that is designed to provide selected GENIUS Club members with advanced product access and support. Submitting a refundable deposit of $2,500 for a one-month trial period, GENIUS Club members will be among the first to receive GENIUS systems and the appropriate consumables prior to the planned commercial launch of the GENIUS platform. Upon completion of the trial-period, GENIUS Club members will have the option of converting to one of several consumables plans for ongoing membership and continued GENIUS system usage.
Building on work first conducted at Stanford University and continued by Dr. Esfandyarpour and his team at GenapSys, the GENIUS system incorporates 15 years of research, innovation and development into a simple, accurate and scalable solution. The GENIUS system generates results faster and at a fraction of the cost of existing products on the market, with interchangeable sequencing chips offering versatile use cases ranging from targeted, exome, transcriptome, to whole genome sequencing.
"Alternative approaches to sequencing, such as nanopore and single molecule detection, have been plagued by problems including scalability and accuracy," said Dr. Esfandyarpour. "The GENIUS technology addresses these legacy issues, offering an easy to use solution at a cost which will finally enable sequencing technology to be deployed on a widespread scale. The opportunity to widen the audience for DNA sequencing is immense, with people all over the world standing to benefit from cheaper and easier access to genomic information, and a growing base of researchers capable of making meaningful contributions when armed with the right tools. The GENIUS Next Generation DNA Sequencer marks the end of the era in which sequencing required a multi-million dollar budget."
About GenapSys Inc.
GenapSys, headquartered in Redwood City, CA, is a venture backed privately-held company that has created, developed and is producing a market disrupting Genomic Testing system. The company's first product, the GENIUS 110™ system, will enable Next Generation Sequencing users to replace today's workflows that are tedious, expensive and time-consuming with a single simple, cost-effective and fast process. Its patented GENIUS technology integrates advanced electronics, novel sensors, fluidics and analytics to dramatically reduce capital outlays and operating expenses for DNA and RNA sequencing. The proprietary GENIUS technology is protected by more than 40 patents and patent applications. GenapSys's advisory board includes among others, Ron Davis, Director of Stanford Genome Technology Center, George Church, Professor of Genetics at Harvard Medical School, Eric Topol, Director of the Scripps Translational Science Institute, and Michael Snyder, Director of Stanford Center for Genomics and Personalized Medicine. For more information, visit
GenapSys.com
.
Contact:
Howard D Goldstein
GenapSys Inc.
640 Galveston Drive
Redwood City, CA 94063
Howard@GenapSys.com
+1 (650) 330-1096 extension 121