Cerebrotech Recognized as Rice Alliance Life Science Company at 2014 Texas Life Science Forum
Fifty-five companies presented at the event highlighting new life science technologies and pharma.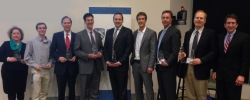 Houston, TX, February 26, 2014 --(
PR.com
)-- Companies specializing in medical technologies and pharma addressing medical concerns from early-stage detection of cerebral edema to advanced cancer immunotherapies were among the 55 companies that presented their five-minute business plan presentations at the 3nd annual Texas Life Science Venture Forum hosted by the Rice Alliance for Technology and Entrepreneurship and BioHouston and Texas Healthcare and BioScience Institute at the BioScience Research Collaborative in Houston, Feb. 20. A group of investors and business leaders from around the country served as judges.
Ten companies were chosen by investors and industry experts at the event as the "Rice Alliance Life Science Companies" including Cerebrotech Medical Systems. Cerebrotech is developing a revolutionary new technology licensed from University of California at Berkeley for non-invasively monitoring victims of stroke and brain trauma, providing early warning and allowing intervention to prevent further brain damage.
"We are honored that our company has been recognized by the Rice Alliance," said Mitch Levinson, Co-Founder and CEO of Cerebrotech. "Dr. Boris Rubinsky and his team of researchers at University of California at Berkeley invented a powerful technology, and our engineers are working hard to give victims of stroke, brain trauma and other brain conditions a brighter tomorrow." Mr. Levinson explained that there are no other devices which can detect the early stages of brain bleeding or swelling, so many patients develop serious "secondary brain injury" because the interventions are too late. Cerebrotech hopes to change the standard of care for stroke and brain trauma patients, improve patient outcomes and reduce hospital costs with a cost-effective, non-invasive monitoring device.
"Every year the quality of companies improves," said Rice Alliance Managing Director Brad Burke, who announced the winners at the event. "This year we had a diversity of companies, including rapid, in-office diagnosis of ENT illnesses to a catheter-based, minimally-invasive heart pump for the treatment of chronic heart failure. As a group, the companies this year are further along which makes them more appealing to current investors, who have commented on the improved quality of the companies."
The event is the largest life science venture capital conference in the Southwest and featured more than 70 industry and investment speakers. Among the 600+ attendees were venture capitalists and other investors, entrepreneurs, industry representatives, business leaders and service providers.
About Cerebrotech Medical Systems
Cerebrotech Medical Systems, Inc. was founded in late 2010 with the mission to provide clinicians with a completely non-invasive, continuous monitor for early detection of cerebral events that can be catastrophic for patients after stroke, traumatic brain injury (TBI), brain surgery and other conditions. With earlier detection, physicians can intervene sooner, saving lives and improving outcomes—all while reducing hospital costs. The company's core intellectual property is licensed exclusively from University of California at Berkeley. Cerebrotech is a venture capital-backed start-up company located in Pleasanton, CA.
www.cerebrotechmedical.com
About The Rice Alliance for Technology and Entrepreneurship
The Rice Alliance for Technology and Entrepreneurship (Rice Alliance) is Rice University's flagship initiative devoted to the support of entrepreneurship. The mission of the Rice Alliance is to provide entrepreneurship education and to support the commercialization of technology innovations and the creation of new companies in the Texas and Houston region. Since inception in 1999, the Rice Alliance has assisted in the launch of over 225 new technology companies, which have raised more than $350 million in early stage funding. Of these, approximately 25 companies have been launched based on technology developed by Rice faculty and researchers and licensed from the Rice Office of Technology Transfer. Unique among many entrepreneurship centers, the Rice Alliance was formed as a strategic alliance of three schools at Rice University: the George R. Brown School of Engineering, the Wiess School of Natural Sciences, and the Jesse H. Jones Graduate School of Management. In 2013, Rice University was recognized as #4 of the best graduate entrepreneurship programs in the U.S. by The Princeton Review and Entrepreneur magazine.
About BioHouston
BioHouston, Inc. is a non-profit corporation founded by Houston area academic/research institutions. We are leading a broad effort to establish the Houston region as a vigorous global competitor in life science and biotechnology commercialization. Our mission is to create an environment that will stimulate technology transfer and research commercialization, thereby generating economic wealth for the Houston region and making it a global competitor in life science commercialization. BioHouston's activities provide the greatest leverage in making the Houston region a world-class competitor in the life science industry. All of our activities are designed to: CONVENE people and organizations that need to come together to make the life science industry in Houston ignite, including scientists, intellectual property and product development experts, venture capitalists, pharmaceutical companies, and others. COMMUNICATE and interact so that people and organizations can learn from one another, share information and explore opportunities. CATALYZE the discoveries and commercial development so that the true potential of the life science industry in Houston can be unlocked.
About Houston Area Translational Research Consortium (HATRC)
The Houston Area Translational Research Consortium (HATRC) is a unique amalgam of scientific, health care, entrepreneurial, educational, regulatory and commercialization expertise and resources that speed the delivery of research generated by the 54 members of the Texas Medical Center (TMC) from the laboratory into businesses that bring life-saving products and technologies to the fight against human disease. HATRC draws ideas, research, and talent from the TMC and introduces new health sciences businesses and jobs to Texas, building Houston into the next major hub of biotechnology research and investment.
Contact
Cerebrotech Medical Systems
Mitch Levinson
925-399-5392
cerebrotechmedical.com

Contact