Professional Plastics Signs Master Distributor Agreement with Corning Macor®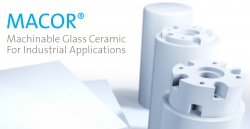 Orchard Park, NY, February 27, 2014 --(
PR.com
)-- Professional Plastics, Inc. has recently signed a Master Distribution Agreement with Corning, Inc. for the distribution and fabrication of Macor® Machinable Glass Ceramic parts and shapes. As a leading supplier of engineering plastics and ceramics with 18 locations in the USA, Singapore and Taiwan, Professional Plastics, will fill a key role in introducing Macor® to a broad global audience.
Macor® is a high-performance technical ceramic that combines the versatility of a high performance polymer, with the stability and the machinability of a soft metal. As a result, Macor® can be fabricated into highly complex shapes, using conventional metalworking tools. It's unique composition comprises 55% fluorophlogopite mica and 45% borosilicate glass. When combined with Corning's unique production process, this results in a microstructure that is a key to its versatile properties. Macor® is a white, non-wetting, odorless and non outgassing material that exhibits zero porosity. This material offers extremely tight tolerance capabilities, allowing complicated shape design (optimal performances up to +/- 0.013 mm for dimensions, < 0.5 μm for finished surface and up to 0.013 μm for polished surface). Macor® remains continuously stable at 800°C, with a maximum peak at 1000°C under no load, and unlike ductile materials, doesn't creep or deform. Its coefficient of thermal expansion readily matches most metals and sealing glasses. As an electric insulator, particularly at high temperatures, it is excellent at high voltages and a broad spectrum of frequencies.
For more details, visit
http://www.professionalplastics.com/CorningMacorDistributor
or call (888) 995-7767.
Contact
Professional Plastics, Inc.
Chris Kietzke
888-995-7767
www.professionalplastics.com
145 Mid County Drive
Orchard Park, NY 14127

Contact