Top Quality Plants, Individuals Honored by ACPA
QCast Awards recognize plants scoring 95% or better on 2013 quality audits.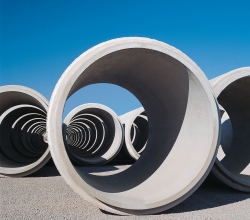 Irving, TX, March 04, 2014 --(
PR.com
)-- In the fiercely competitive marketplace for pipe and drainage systems, quality is paramount. Reinforced concrete pipe consistently stands above the competition thanks to the uncompromising commitment to quality manufacturing at plants across North America.
To recognize those plants that stand above the rest on the most important measures of production quality, the American Concrete Pipe Association (ACPA) established its annual QCast Awards.
The ACPA's "Quality Cast" Plant Certification Program, commonly known as QCast, is the recognized standard for quality assurance in the concrete pipe industry. The QCast program covers the inspection of materials, finished products and handling/storage procedures, as well as performance testing and quality control documentation. Plants may be certified in storm sewer and culvert pipe, sanitary sewer, box culverts, three-sided structures, manholes and precast structures.
Plants in each of the certification categories that score 95% or better on their annual QCast audit are recognized with the ACPA QCast Awards. From these honorees, one overall winner is selected in each category.
The ACPA recognized its 2013 QCast Awards winners during a special ceremony at its annual Pipe School held in Houston last month. The overall winners are:
Cretex Concrete Products; Cedar Rapids, IA; Combined Sanitary & Storm Sewer
Hanson Pipe & Precast; Jersey Village, TX; Storm Sewer
Johnson County Pipe; Alvarado, TX; Box Culvert
Cretex Concrete Products; Shakopee, MN; Sanitary Manholes
Cretex Concrete Products; Elk River, MN; Manholes
Precast Concepts; Grand Junction, CO; Precast
"Engineers, specifiers, DOT officials and contractors have learned they can count on concrete pipe plants to meet the most rigorous quality criteria for every job, in every application, every day," said Bill Adams, ACPA Chairman of the Board and Chairman of Hancock Concrete Products. "Our QCast Awards single out the best of the best in terms of quality manufacturing, and this year's winners are truly exceptional examples of the work being done in plants all across North America."
Also during the 2014 Pipe School, the ACPA took the opportunity to recognize other important contributors to the industry. The following individuals were honored during the ceremony:
Jeff Hite of Rinker Materials received the Mel Marshall Award for contributions to education or quality;
Pat Liston of Hanson Pipe & Precast won the President's Award for Marketing Excellence; and,
Derek Light of Inland Pipe received the Richard C. Longfellow Award, which is presented to the author of the best Concrete Pipe News article of the year.
"Each of this year's award recipients has made meaningful contributions to their own companies as well as to the entire industry," said ACPA President Matt Childs. "Whether it's innovative advances in quality, marketing, education or communications, each of them has earned our appreciation and we hold them up as examples for others to emulate."
In addition, the ACPA recognized the latest winners of its P3 Awards, which recognize successful completion of its Professional Pipe Promotion online training course. The P3 program offers advanced training in both the technical and sales and marketing attributes of reinforced concrete pipe (RCP), equipping participants with the tools and information necessary to provide a consistent message to customers, specifiers and rule-makers. By completing the various P3 training modules, pipe professionals can achieve a "Pipe Pro" and/or "RCP Master" level of knowledge.
This year's P3 Awards were presented to Kelly Peterich and Brandy Lang, both from Rinker Materials – Concrete Pipe Division CEMEX, and Brandon Christiansen from Cretex Concrete Products.
To learn more about the QCast program, contact the ACPA's Kim Spahn at (972) 506-7216, or kspahn@concrete-pipe.org, or visit www.concrete-pipe.org.
About the ACPA
Established in 1907, the
American Concrete Pipe Association
serves as the voice of the concrete pipe industry. The ACPA is a nonprofit organization comprised of manufacturers of concrete pipe and box culverts, manufacturers of equipment and providers of products and services related to the concrete pipe industry. Member companies are located throughout the United States, Canada and more than 40 foreign countries. The Association provides its members with a wide range of research, technical and marketing support to promote and advance the use of concrete pipe for drainage and pollution control applications.
Contact
American Concrete Pipe Association
Ladd Biro
972-724-3039
www.concrete-pipe.org
Champion Management is proud to be the marketing and PR agency of record for the ACPA.

Contact