Source-Omega Spins Out Dr DHA Concept Over New Book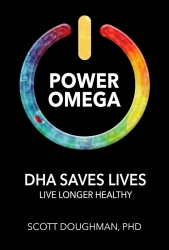 South Lebanon, OH, March 06, 2014 --(
PR.com
)-- Source-Omega announced today it is releasing the rights to its founder's personal book, they say to foreshadow the company's world premier omega-3 product developments set for launch this year.
The company projects bulk algae oil omega-3 sales growth and private label contract sales are expected to quadruple within the year, so the new book hopes to bring essential information to the lay public about omega-3 fats. The company says the private book should synergize with their marketing of algae omega-3 ingredient innovations.
Source-Omega is in its sixth year. Its founder, Dr Scott Doughman, has independently published with Wisdom House Books to bring his Dr DHA personality to life, separate from the company. Scott Doughman, PhD is the author of the book titled "Power Omega: DHA Saves Lives; Live Longer Healthy" (ISBN-13: 978-0-9913115-0-7; Health & Fitness/Diet & Nutrition/Vitamins, $14.99 U.S.).
"An 'Ask Dr DHA' spokesperson role has been emerging now for over two years and serves to complete an original principle in founding Source-Omega; that is, to educate on the actual human omega-3 identity and to discuss the fundamentals of your omega-3 physiology, but this is a separate mission than product innovations," said Doughman.
For the company, Dr Doughman has recently been speaker for two internationally acclaimed events. The first was the "BioMarine 2013 Conference" held in Halifax Canada, organized to connect key players in the BioMarine blue economy industry. The second was in February 2014 when he featured their water extracted algae oil products in the online webinar titled "Nutritional Lipids and Oils" hosted by the William Reed Business Media group discussing 'Unknown Thoughts in Innovation' together with USA companies Virun and Amway.
The new book "Power Omega" is available at
www.power-omega.com
. Dr Doughman wrote the book while residing in his Family's hometown of historic South Lebanon, Ohio.
"We are the oldest family name continuously residing in South Lebanon, the original county seat, now representing the fifth and sixth generation of Doughman's living here."
The Doughman's are a pioneer American family who settled in Southwestern Ohio in 1813 after its Doughman forefathers served in the Revolutionary War of 1776 and the War of Independence in 1812.
About The Author
Scott Doughman, PHD is recipient of several prestigious awards, including a Fellowship in Nutritional Biochemistry from the National Institutes of Health (NIH) for studying the role of omega-3's and essential fats in Metabolic Diseases. Dr. Doughman has authored two peer review articles on algae oil omega-3's (Curr. Diabetes Rev., 2007; Int. J. Diabetes in Dev. Count., 2013). Dr. Doughman founded a company called Source- Omega in 2007 to specialize in algae omega-3s. His insight into omega-3 metabolism has attracted attention in the scientific community and he understands the global need for omega-3 DHA. His doctoral work was on phospholipid-dependent neurotransmitter release mechanisms in neuronal systems at the University of Wisconsin, Department of Biochemistry. His lipids work led to post-doctoral studies on omega-3 and omega-6 transport interactions and metabolism, conducted in the Departments of Developmental Biology and Nutrition at the University of North Carolina - Chapel Hill, Gillings School of Global Public Health. His public health exposure led him to uniquely understand how omega-3 fats function, but more importantly his biochemistry background gave him insight into the workings of omega-3 DHA in lipoprotein phospholipids.
Contact
Source-Omega, LLC
Gene Wolf
919-360-5275
www.source-omega.com
11312 US 15-501 North, Suite 107-122
Chapel Hill, N.C. 27517, USA

Contact