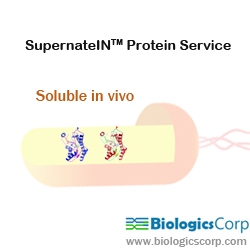 Indianapolis, IN, April 25, 2014 --(
PR.com
)-- BiologicsCorp proudly launches this
soluble protein service
- another first in the industry. They have tested many variables, including codon optimization, strain, charperones and foldases, and others. Give SupernateINTM a try, especially if your protein of interest could not be expressed in soluble form. BiologicsCorp confident and can guarantee success - no soluble fraction for target protein, no payment for expression service.
Escherichia coli is an outstanding factory for recombinant protein production. Its advantages include easy manipulation, fast growth, and high target yield. However, the rapid and high-yield protein production often leads to polypeptide misfolding and results in protein aggregation into inclusion bodies, rendering the target protein biologically inactive. Although in vitro refolding may solubilize some aggregated proteins, it cannot totally eliminate partial misfolding and guarantee the maximum native protein activity.
BiologicsCorp has developed and experienced many techniques for obtaining in vivo soluble and functional recombinant proteins from E. coli. Combining the techniques, we have tested many proteins that are normally expressed in inclusion bodies. Upon a platform screening, ~90% of them have resulted in at least one optimal condition under which high level of target expression is achieved in the soluble fraction. Proteins from the soluble fraction present the best possibility for correctly folding in vivo and native activity in vitro. The platform provides a cost-efficient mean to obtain high-quality over-expressed soluble proteins.