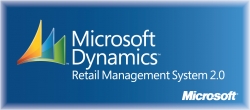 Glastonbury, CT, May 07, 2014 --(
PR.com
)-- Microsoft's Retail Management System (RMS) point of sale Firearms integration includes electronic Firearms Bound Book and electronic Form 4473. Microsoft RMS is the best known retail and service point of sale system in the world with many more features and benefits than proprietary systems. The Firearms solution allows firearms dealers, sporting goods dealers and other niche retail stores selling firearms and ammunition to process electronic: ATF Form 4473, FBI NICS background check and other forms and transactions within Microsoft RMS point of sale. "The integration makes the fastest, lowest cost solution to sell and trade firearms and ammunition in the store front and maintain inventory in the back, while staying ATF compliant," says Chris Johnston of
System Solutions
a Microsoft RMS Certified Partner.
With Microsoft RMS installed on your computer and an Internet connection, you can create purchase orders in Microsoft RMS and process ATF compliant receiving, trades, layaways, sales and returns simultaneously with other items in the store, all while managing customers and inventory. A dealer can stay ATF compliant while maintaining seamless, time saving inventory and check out processes and create a great customer experience.
Microsoft is the leader in PC, server, and business software worldwide. Microsoft's RMS POS system is sold worldwide and installed at over 60,000 locations. Single and multi-store sporting goods, firearms, niche retail, hardware, service and rental stores can purchase Microsoft retail POS technology backed by an ecosystem of Microsoft trained retail professionals in every state. "With proprietary point of sale systems, retailers really have limited or no choices when it comes to available features or support options. These companies just don't have the depth of retail knowledge, money and resources of Microsoft and it's ecosystem of retail partners," says Dave Durrenberger of System Solutions.
For more information on the solution, visit:
Microsoft RMS Firearms Bound Book and Electronic Form 4473
or call (800) 301-3541.