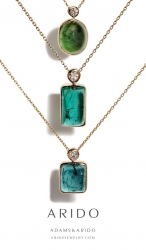 Manhattan, NY, May 12, 2014 --(
PR.com
)-- ADAMS&ARIDO will be featuring six one of a kind 18k yellow gold green Tourmaline and Diamond necklaces, created exclusively for DPA A-list stars in Cannes.
The necklaces named "GRACE" are in celebration of the Grace Kelly legacy.
Her style, taste and beauty are the inspiration for these one of a kind necklaces.
The extraordinary necklaces were photographed in New York by renowned photographer Brent Lee.
ARIDO is set to celebrate ADAMS&ARIDO "GRACE" necklaces with top A list talent of the film industry.
Following Cannes ADAMS&ARIDO will embark on an international world tour presenting their new collection.
DPA exclusive by invite only event will take place May 14th through May 23th "The Palace of the Stars", at The Intercontinental Carlton Hotel in Cannes.
www.aridojewelry.com/collaboration.html