VIRUN NutraBIOsciences™, Leader in Cognitive-Functional-Ingredients, to Sponsor Cognitive Health Forum at NutraIngredients-USA
VIRUN, leader in Cognitive health ingredients, is sponsoring NutraIngreidents Cognitive Health Forum on May 22nd, 2014. According to NutraIngredients-USA, "Industry leaders from companies such as Abbott Nutrition, Standard Process, Nawgan, and Euromonitor will join for a discussion of the cognitive health sector, from science and claim substantiation, to market sizing and key consumer demographics."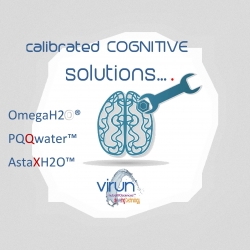 Walnut, CA, May 13, 2014 --(
PR.com
)-- Cognitive Health ingredients seeing exceptional growth and opportunity…
Cognitive health is a new category for beverages and supplements. This category has undertaken tremendous growth that has seen over 3-times year-on-year growth since 2009 according to Consumer Health Analyst, Mark Strobel at Euromonitor International who is also a speaker at the upcoming Cognitive Health Forum (Source: April 15, 2014 Dietary Supplements Positioning Focus – Memory Health). The industry-drive of this category can be attributed toward such companies as Nestlé and Abbot. For example, Nestlé acquired Accera in 2012 (now part of Nestlé Health Science) and Abbott Nutrition have successfully invested and branded baby formula containing brain health ingredients such as Lutein. These are just a few examples of this growing trend:
VIRUN, NutraBIOsciences offers cognitive ingredients for Beverages, shots and supplements...
While the Cognitive-Health category grows in demand, VIRUN have invested in developing water soluble and stable forms of these unique ingredients so they can be used in beverages, foods, supplements and "shots." Lipids and fatty acids such as Phosphatidylserine and DHA Omega-3 have scientifically supportive health claims yet are nearly impossible to add to beverages and shots as clearer and stable without use of chemical additives (such as EDTA, Polysorbates, or ingredients not approved for direct food use, such as Hydrogenated Castor Oil PEG-40 or Castor Oil, polyoxyethylated). VIRUN develops clean-label-claim cognitive ingredients that dissolve into water clearer, or clear with colored tint and are stable. These ingredients allow for aggressive cognitive health claims with natural lipids, such as Phosphatidylserine, and fatty acids, such as DHA omega-3 (OmegaH2O®) that are necessary for brain function and are naturally occurring in the human brain. Other unique ingredients include carotenoids, such as Lutein, quinones such as Pyrroloquinoline quinone (PQQwater™), Astaxanthin (AstaXH2O™) and Resveratrol. VIRUN specializes in creating water soluble liquid and powder concentrates that easily solubilize in your application without impacting flavor and are stable.
Cognitive Health Investment – is this really the "Last Frontier" category of functional claims?...
The cognitive health category is a growing category and is influenced by unique and progressive scientifically proven ingredients. For example, recently published in Dementia and Geriatric Cognitive Disorders (Vol. 38, No. 1-2, 2014, titled: Phosphatidylserine Containing Omega-3 Fatty Acids May Improve Memory Abilities in Nondemented Elderly Individuals with Memory Complaints: Results from an Open-Label Extension Study) showed that 100 mg/day of Phosphatidylserine-DHA might be associated with improving or maintaining cognitive status in elderly subjects with memory complaints. This new science has introduced ingredients that are not yet prevalent in food, beverage, supplement and shot categories. One such reason is the difficulty in stabilizing these unique ingredients because they are not very water soluble. VIRUN's over 40 patented and patent-pending technologies allow these ingredients to be formulated in almost any application with exceptional results, flavor and in some instances, improved bioavailability. The cognitive health category is dubbed the "last frontier" due to the growing interest, growing health concerns toward cognition and due to the lack of saturation in the market place. VIRUN's unique technologies allow these ingredients to quickly go-to-market and VIRUN offers finished product capabilities in addition to the raw concentrates. Add smart ingredients to your smart beverage, shot or supplement product, contact VIRUN's innovation team today for cognitive health ingredients….
About VIRUN:
We are a Nutra-BioSciences™ company formed in 2003, headquartered in Walnut, CA, with an emphasis on safe and effective delivery technology. Our aim is to focus on delivery both to the human body, via improving the efficacy of nutrients, compounds and drugs, as well as the delivery of water-insoluble nutrients into food, beverage and supplements, for example Omega-3 EPA DHA branded as OmegaH2O®, Resveratrol, CoQ10 branded as CoenzymeClear™, Astaxanthin branded as AstaxH2O™, PQQ branded as PQQwater™, Lutein, Phytosterols and Curcumin. Virun is a fully integrated research and production facility with manufacturing in CA and finished product processing in FL.
VIRUN
PR Director - Stephanie Bromley
(909) 839-0629
email: stephanie.bromley@virun.com
www.virun.com
Contact
Virun, Inc.
Philip Bromley
954-641-0570
www.virun.com
innovate.today@virun.com

Contact