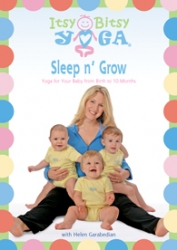 Sudbury, MA, October 16, 2007 --(
PR.com
)-- "Sleep n' Grow," the new Itsy Bitsy Yoga DVD, offers parents new techniques based on ancient yoga practices, to help calm baby and improve sleep. This instructional DVD with Helen Garabedian, the founder of Itsy Bitsy Yoga®, will be released in January 2008. It features beneficial poses Garabedian created by tailoring yoga to suit a baby's physical needs.
Unlike many mom and baby (or post-natal exercise) DVDs, Itsy Bitsy Yoga DVDs offer baby yoga poses and infant developmental exercises designed just for babies. And, parents enjoy the side effects of Itsy Bitsy Yoga — a happier, calmer baby who sleeps for longer periods at night.
Itsy Bitsy Yoga "Sleep n' Grow" teaches parents techniques to calm fussy infants, help with digestion and improve sleep, all while creating lasting emotional bonds.
Itsy Bitsy Yoga "Sleep n' Grow" DVD features the following routines:
• Stretch n' Play Routine — have fun promoting baby's motor development
• Divine Digestion Routine — soothe baby's tummy troubles of all kinds
• Sweet Sleep Routine — a relaxing way to help improve your baby's sleep
• Especially for You and Your Newborn — personalize each routine for newborns
• Bonus Feature — see Helen work one-on-one with infants and active babies
Hollywood celebrities such as Courtney Cox, Adam Sandler, Gwyneth Paltrow and Tori Spelling all practice Itsy Bitsy Yoga with their babies. Just last month, Tori Spelling and her son Liam where filmed at an Itsy Bitsy Yoga class for Spelling's television show, "Inn Love," which is broadcast on the Oxygen channel.
One new mom, Lacy, said, "This DVD has really helped my 10-week-old baby girl. She was having trouble sleeping through the night due to gas, but a few days after we started doing the routines on a regular basis, she started sleeping all the way through the night. She sleeps anywhere from 8 to 10 hours. And, it's fun — my baby smiles and laughs every time we do Itsy Bitsy Yoga."
The Itsy Bitsy Yoga "Sleep n' Grow" DVD is now available for purchase online at www.itsybitsyyoga.com and will be available nationwide in January, at many fine yoga studios, retail shops, and baby boutiques. The DVD is distributed by several major distributors, including iPlay®, a company that has been keeping babies and parents happy for over 25 years. Moms can watch a free DVD clip or purchase the full-length Itsy Bitsy Yoga "Sleep n' Grow" DVD for $19.99, by visiting www.itsybitsyyoga.com.
About Helen Garabedian and Itsy Bitsy Yoga
Helen Garabedian is the founder of Itsy Bitsy Yoga® and the mother of a three-year-old. Garabedian is an innovator in the field of yoga for babies and toddlers. She founded Itsy Bitsy Yoga in 1999 and has designed a repertoire of over 150 poses tailored to suit the physical needs of babies and toddlers. Since then, she has trained several hundred facilitators to teach the program in classes across the United States, and in nine other countries.
Helen Garabedian is a certified Hatha Yoga teacher and a certified infant developmental movement specialist, as well as a certified infant massage instructor. She is the author of two books. Garabedian's first book, "Itsy Bitsy Yoga: Poses to Help Your Baby Sleep Longer, Digest Better and Grow Stronger," was released in 2004 by Simon & Schuster. "Itsy Bitsy Yoga for Toddlers and Preschoolers: 8-minute Routines to Help Your Child Grow Smarter, Be Happier, and Behave Better" will be released by DaCapo Lifelong Books in March 2008. Helen also produced and starred in two other DVD releases, "Mamacise™" and "Play n' Flourish."
Media Contact
For more information or to schedule an interview, please contact Julie Carson May at (877) 964-2386, Helen Garabedian at (978) 443-8468, or at media@itsybitsyyoga.com
High Resolution DVD Cover Image Available
www.itsybitsyyoga.com/press/images.html
###