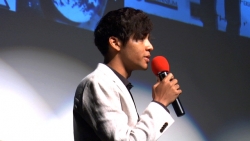 Los Angeles, CA, June 10, 2014 --(
PR.com
)-- "What you guys have to recognize is you have global competition out there...when you have that competition you have to achieve, strive to be great. If you don't you're really going to lose the opportunities like jobs, achieving your dreams," 21-year-old CEO, novelist, international charity founder, composer & lyricist, and
Whittier College
junior,
RJ Tolson
, recently stressed to more than two-hundred of America's finest and talented middle and high schoolers at Emmy & Tony Award winning actress and Academy Award & Golden Globe Award nominee Cicely Tyson's school, the Cicely Tyson Community School of Performing & Fine Arts, in East Orange, N.J. Tolson's commitment and passion to inspiring these young Americans to 'Be Limitless' and think globally resounded throughout his visit. "You might question your friends, your state or your country," continued Tolson "Even to the extent of your country that's not all there is out there that should matter." Cicely Tyson School Educational Media Specialist and Certified Public Librarian, Lora Tazewell, commented, "I was particularly impressed when he [RJ Tolson] discussed the importance in our students preparing themselves to live in a global world and to think beyond the walls of East Orange, NJ."
No stranger to thinking globally, Tolson at only 18 years of age founded an international charity, Forever Trust, which supports 58 U.S. based international relief and development organizations; became CEO of a multi-divisional corporation; and published an award-winning coming of age, metaphysical & visionary children's and teen & young adult science fiction & fantasy book,
Chaos Chronicles Book 1: Zephyr The West Wind
. An action & adventure filled extravaganza of superheroes, mysteries, mythology, magical realism, fairy tales & folk lore, alien beings, paranormal power & creatures of epic proportions, myths & legends and love & romance, Zephyr The West Wind, garnered RJ Tolson a Finalist Award in the 2013 Beverly Hills Book Awards and National Indie Excellence Book Awards. At that same time and only 19-years-old, Tolson launched a National Literacy Campaign. In fact, he ignited a passion in America's youth, from New England to Florida and across the West, to forge new paths and excel chiefly through the skills of reading and writing. Now with an online fan club,
Limitless Fan Club
, of more than 350,000 monthly paying members, nearly 60,000 Twitter followers, thousands of Facebook Likes, and guest appearances on NBC Universal Telemundo national and international morning television show, Un Nuevo Dia, and CBS, NBC, FOX and ABC affiliates, this young business guru stands at the forefront of innovation.
Tolson's recently released nonfiction self-help book, "
Project Limitless Volume I: The Success Initiative
," illuminates his innate ability to consistently imagine and create. Philosophy, epistemology, entrepreneurship, business, money, investing, time & stress management, and the interconnectedness of success & innovation, motivation & improvement and consciousness & thought are all part and parcel of The Success Initiative. "So many people have asked me how I do it, and how I think other successful people have made their dreams come true," explains Tolson. "Having been able to make some of my dreams come true, the Project Limitless Series is my way of bringing that back to others because I feel very lucky that I've had that opportunity to do what I do and I want others to have the chance, too." Cicely Tyson School middle and high schoolers also sought to know how Tolson accomplished so much at such a young age. Tolson reiterated the importance of reading & writing, higher & continuing education, striving for excellence, honing skills, creative thinking and not settling for the status quo. Media Specialist Lora Tazewell indicated "RJ was the 'Hit Of The Day' for our students...The success of RJ as a young author and entrepreneur is inspiring to say the least."