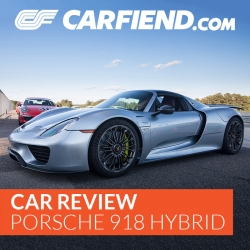 San Francisco, CA, June 18, 2014 --(
PR.com
)-- The new Porsche 918 Spyder is a wonder of technology, design and power. It's a plug-in hybrid that does 0-60 in under 3 seconds and tops out at over 200 mph.
"We know the 918 is something special when the pace car up front - a brand new Porsche 991 Turbo S - starts to go sideways in the corners. Our 918 isn't even breathing hard," begins the Car Fiend review. Read the full review at
carfiend.com
.
The test drive took place at Barber Motorsports Park in Birmingham, Alabama, as well as on surrounding roads. The 918 can silently cruise up to 93 mph in electric mode, or add its mid-mounted V8 to the mix for nearly 900 horsepower, and blast the sound through beautifully designed top pipes about two feet behind the driver's head.
Costing $845,000, the 918 is the most expensive production Porsche ever, using the same technology found in the ultimate Le Mans Prototype 919.
Car Fiend's free app is available now on Google Play and the App Store.
Car Fiend is a free, fun app for iPhone and Android that lets users share their automotive passion. Browse and post photos, add detailed car profiles, and fill a virtual garage with the ultimate car collection. Car Fiend is the home for all car enthusiasts.