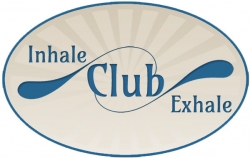 Billerica, MA, August 01, 2014 --(
PR.com
)-- "Green Chocolate Bar" debuted their first show on July 30th on WCAP980am Lowell, MA.
Fitness & Nutrition Designers, Local Personalities, Coach Kelly LaCasse & Coach Michael LoColle to Begin New Morning Radio Show "Green Chocolate Bar."
Coach Kelly & Coach Michael are the co-owners/co-creators of Club Inhale/Exhale, a Private Fitness & Nutritional Design Studio.
Coach Kelly & Coach Michael's new morning radio show the "Green Chocolate Bar Radio Show" will air on WCAP 980am Radio every Wednesday morning at 10am.
Coach Kelly states "The Green Chocolate Bar is an interactive radio show that specializes in educating you on your lifestyle enhancements through the holistic views of fitness and nutrition. "It's all about believing in you! We smash myths that people are hearing about new fads and more."
Coach Michael & Coach Kelly want listeners to know that the show's content was put together so that they could help educate the public on the truths in their industry and guide them in the right direction, "Their Direction".
Segments such as, "Hey, "IS THIS THING ON?" and "JUNK IN YOUR TRUNK" are designed to bust myths about fitness and nutrition and help the audience determine what is fact and what is fiction.
Club Inhale / Exhale will have a special segment for guest appearances and invite listeners to submit questions during Mailbox Time which will be answered live via Facebook, Twitter, and email as well as call in's!
The Green Chocolate Bar show launched live on Wednesday July 30th, and will run every Wednesday at 10am – 11 Eastern Time. The shows will be archived and able to be downloaded by podcast at Club Inhale/Exhale's website, www.ClubInhaleExhale.com
The Green Chocolate Bar is available by podcast at www.Podomatic.com or by searching Itunes for Club Inhale/Exhale or Green Chocolate Bar
Visit: www.clubinhaleexhale.com/green-chocolate-bar-radio-show for more info.
Affiliates, Sponsors, and Potential guests can contact Club Inhale/Exhale at info@clubinhaleexhale.com or via Facebook at www.facebook.com/clubinhaleexhale
Contact: Michael & Kelly
info@clubinhaleexhale.com