Techna Center, LLC Builds an Automation Tool to Make Photos Confidential
Baltimore, MD, September 04, 2014 --(
PR.com
)-- Techna Center, LLC develops Windows-compatible software called Logo Inserter Lite for Photos Version 1 to quickly and easily apply a logo or watermark to multiple photos at a time. There are several reasons why logos/watermarks are added to photos. First of all, logos in photos convey ownership of the work. Secondly, logos embedded in photos increase the brand awareness. Thirdly, logos placed in photos prevent any unauthorized use of the work. While adding logos to photos makes sense, the task requires special tools or a graphic designer's skills.
Adding a logo to multiple photos at a time is a very time-consuming process because of the repetitive steps involved. For best results, a graphic designer has to perform at least three steps:
1. Open the logo file and a photo in a special graphic-editing software
2. Add a desired logo or watermark
3. Save the new file
Each of these steps has to be repeated for each photo. Some graphic editing tools do offer some automation on these steps to reduce manual work. However the tools are expensive because they are primarily designed to edit and enhance photos. Furthermore, tools may not place the logo or watermark at the desired spot in all photos.
To address the shortcomings, Techna Center, LLC has developed a more efficient solution just for this task. When Logo Inserter Lite for Photos is launched, it has only one job to perform: insert logos. Consequently, it does it well.
Basically, for each photo the software performs the steps of a graphic designer and calculates the optimum area for placing the logo based on predefined selection – all in a fraction of a second. Here is a quick-run of the available features in this version:
• Protects photos by inserting desired company logo or watermark
• Offers 15 predefined areas such as top/middle/bottom: left, center, and right
• Allows any amount of spacing (# of pixels) between logo and photo, where applicable
• Constructs new images with any desired background color
• Supports processing of a large # of photos at a time
• Progress notification while the photos are processed
• Imports variety of photos: .jpg, .jpeg, .jpe, .jfif, .png, and .gif
• New images can be saved in one of these formats: .jpeg, .gif, .png, or .tiff
"With a small investment, business owners and managers can only not protect their photos by inserting their company's logo, but also increase their brand awareness," noted Raj Singh, General Manager at Techna Center, LLC. If anyone uses photos for their business this is good software to use. It's intuitively designed to get a lot done in one window and with just a few clicks as possible. See the program in action on Techna Center, LLC's website at
http://www.technacenter.com/business_software_development.asp
.
The software is expected to go on sale on October 1, 2014. For details, please access the company's website.
About Techna Center, LLC
Techna Center, LLC is an independent and privately held company based in Randallstown MD, and is engaged primarily in the development and support of computer technologies. The company provides services such as software development, computer/software training, and a full suite of website services such as design, development, maintenance, search engine optimization, graphic design and production, and animation production. The company is also engaged online in sales of electronics goods.
Contact
Techna Center, LLC
Raj Singh
443-838-5104
www.technacenter.com

Contact
Multimedia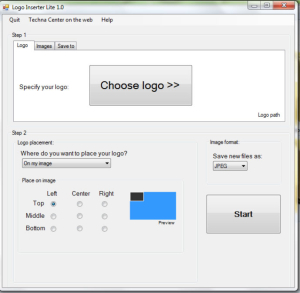 Figure 1: shows a screenshot of the software's main window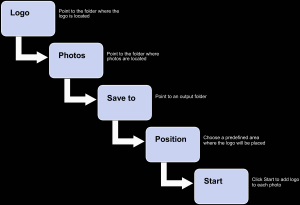 Diagram 1: shows steps involved in setting up the program for inserting a logo or watermark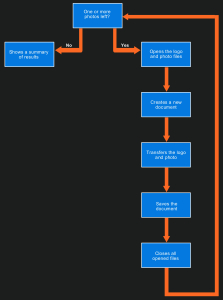 Diagram 2: shows how the program works to place a logo in each photo