Slot-1 Achieves Net Zero Carbon Emissions & Celebrates Electric cars on Record Breaking 100% Electric Vehicle Tour
Alt. recording artist Rick Denzien inspires others to engineer their own jail break from fossil fuel on the "No Gas EV-olution" music tour.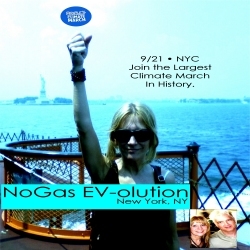 Ambler, PA, September 16, 2014 --(
PR.com
)-- This is an unusual story; but one that needs to be told, especially now.
It's no secret that coal fired power plants, gasoline & petrol diesel powered cars, home heating oil furnaces, construction cement and many other industrial processes are all contributing to a rising percentage of Carbon Dioxide (CO2) in our air. So much so, that according to The Union of Concerned Scientists, 350.org and The Sierra Club summer 2014 was the hottest ever recorded on the planet. Now is the time for radical common sense steps to eliminate as much CO2 emission as possible and then some. And Rick is taking those steps in advance of his new CD "GREEN SKY on the Slot-1 label".
Slot One Entertainment, runs a recording studio (Bah-FoStudio.com), artist development and independent record label (Slot-1.com) with recording artists Rick Denzien, Michael Ronstadt, JayReem, Christo, Lyra Project and OMG. "This business is extremely competitive," according to Debra Lee certified vocal coach & head of the young performers division. "Being 'green' means we are in alignment with our best intentions for a sustainable future, it cuts our costs and frees us to base our plans on a more predictable business model."
"In less than two years we divested of all fossil fuel, chemical, bank and war machine stocks and moved that capital to sustainable, socially responsible, green technology funds and stocks. Since the move the portfolio has increased by 28%. And we achieved zero carbon emissions during the same time period," said Debra Lee.
Rick does double duty at Slot One Entertainment; he has been taking it upon himself to make changes in reducing his personal and corporate carbon footprint. "Our entire operation, uses wind and solar power," says Denzien. "There are many cost-saving-CO2 reducing steps, that anyone can implement," says Rick. "The rolling estimate in carbon savings at the studio where Green Sky was produced is well over 50,000+ lbs saved per year – not hitting the atmosphere.
Rick & Debra also drive an all electric vehicle, which is used to travel to gigs on the No-Gas EV-Olution Music Tour, in part sponsored by Slot-1. He explains "EVs are 85% + cheaper to own than a similar gas car. The goal is to educate everyone we meet about what is possible for engineering their own jail break to freedom from oily fossil fuel bondage." [Editors Note – please see Background 1]
"Music is my 'electric vehicle' for spreading a message about what is foundational for the good life – reducing CO2 emissions through practical, personal changes," states Denzien.
"None of us really thinks about this stuff at first, it is scary and certainly no one wants to take the blame. We are born into a world & culture not of our making, and must choose to learn and see the consequences of decisions made by persons & corporations in the past."
"I have come to realize that in mass we are the economic slaves of others who profit from the 'worldwide 'status quo'. As I started to see this, I found ways to free myself and my company from being a co-conspirator in the destruction of a habitable natural world. It is about learning to be in harmony, with the nature and participating in a sustainable life style for ourselves and future generations," he explains.
Converting from using a gas car to an all 100% electric battery powered Nissan Leaf, was one of those changes he made personally. "The technology is totally there."
Denzien does the math: how far a typical gas car goes on $20? "The average gas car goes about 115 miles on $20. He explains that the LEAF's range is more than 7 times farther than an average car getting 20 MPG. The equivalent cost, for 115 miles in the LEAF is about $2.64; but for $20 more then 750 miles!"
Energy is required to dig, refine, and deliver gasoline and oil products to consumers. "Because they use no gas or oil, EVs are measured in a 'miles per gallon equivalent' or MPGe. When all factors are considered and included properly our MPGe is actually closer to 160. In fact, we can go over 20 miles on the electric power used just to make 1 gallon gasoline with zero emissions." [Editors Note – please see Background 2]
"The EV LEAF empowered us to stop burning over 650 gallons of gasoline per year saving over 13,000 lbs of carbon pollution from our air since in our first year."
"Historically, scientists and activists have been warning about this since the 1970s," says Rick. "Taking small steps to reduce CO2 emissions is better than taking no steps." And he shares his knowledge with anyone listening on small, dollar saving steps that reduce CO2 emissions.
Rick does not literally recommend this for climate change deniers, but the common sense is irrefutable: "Take a big heavy duty trash bag, run a hose from the exhaust pipe of your gas car to inside the bag. Now you put your head in the bag too and duct tape the whole thing shut. Fire up the car, and see how long you're gonna live in there. I guarantee you will die."
He uses this to illustrate that, "You cannot live inside a poison atmosphere. No one can. Less the bag, we all are poisoning the limited atmosphere surrounding our planet. If you drive a gas car, you are contributing to the poison. It is about good choices. We have upset the fragile natural balance by making bad choices for the environment that sustains us all."
The billion plus gas cars on the road, the thousands of coal fired power plants, the billion plus home heating oil and methane gas furnaces; not to mention the bovine burps & flatulence, all together humans dump more than 30,000,000,000 (30 billion) tons of CO2 per year and on the rise (does not include human breathing, burping or flatulence), he points out.
[http://wardsauto.com/ar/world_vehicle_population_110815] [International Governmental Panel on Climate Change ICPP]
According to the US Geological Survey Volcano Observatory, climate scientists have documented - that to get the same amount of CO2 from natural causes, over 100 volcanoes would need to be erupting 24/7/365. Total worldwide natural CO2 output is about 319 million tons annually. [Mörner and Etiope (2002) and Kerrick (2001)] "We have a finite livable, breathable atmosphere and we are using it for an unregulated industrial dumping ground. There are consequences. That should be obvious to everyone, even the biggest corporate polluters, you know - the ones who force our heads in the black plastic bag."
"It's easy and smart to actively reduce CO2 emissions at home - switch to LED lights. They're up to 95% more efficient and last many years longer than a standard bulb, up to 50 – 60% more efficient than CFL – pig tails, and without the 4 milligrams of toxic Mercury vapor."
[EnergyStar.gov]
"Switch off vampire loads; appliances like the microwave oven, coffee maker, phone chargers, entertainment centers, computers when not in use saves money and reduces CO2 emission." [EnergyStar.gov]
Opting in for wind and solar power from energy providers which "This one thing can instantly make any individual or business greener." [Background 3:]
"The rolling estimate in carbon savings at home and the recording studio is well over 50,000 pounds of carbon not hitting the atmosphere per year."
During a long power outage when Hurricane Sandy hit the East Coast in October 2012, "We ran a tri-fuel backup generator. But, unfortunately, it runs on gasoline, methane or LP. Every gallon of gasoline burned puts 20 pounds of CO2 and other poisonous gases directly into our air – just like cars. [http://www.eia.gov/tools/faqs/faq.cfm?id=307&t=11] "That's when my wife and I decided the time had come to take a next big step and get the electric car."
In addition to driving, he has used the LEAF's 24,000 watt 400 volt battery, to run power to the recording studio during subsequent power outages experienced during storms. "There are no worries about having power, or trying to find gas when the pumps are down." He explains "Our local community college has 10 charge stations powered by the sun. That a 'micro grid' charges the car for free during daylight hours."
"We travel carbon emission free – no tail pipe, no pollution. On the road, we're free to select charge stations that get their power from the sun or wind. To keep on track, we use the www.PlugShare.com network. And electric car dealers have free charge stations to support their product line, including Nissan, Ford, and Chevy, KIA, BMW and others. "No more stinky 'gas on the hands' trips to the gas station."
Rick and his wife, Debra Lee, tours with him and is featured on his CD, are involved with the Philadelphia area chapter affiliate of 350.org, an activist movement that promotes meaningful, grassroots, collective action on climate change in 188 countries worldwide. The number 350 signifies the level of the parts per million of CO2 in the atmosphere needed to preserve a "livable planet," which scientists report is now over 400 parts per million and rising. "Civilization, on its current scale, cannot be sustained with these higher levels of CO2 and other greenhouse gasses in the air." says Rick Many of Rick's musician friends are now switching to the EV life style.
Next event: Sunday September 21, 2014 – the Peoples Climate March in New York City. The march is happening just when a summit that's been called for by United Nations Secretary General Ban Ki Moon is taking place on September 23rd; world leaders will gather to discuss, and hopefully commit to bold actions addressing the global climate crisis. Ban Ki Moon has called for actual Heads of State to come to the table directly along with UNFCCC delegates and negotiators, given the urgency and seriousness of the climate crisis. [www.peoplesclimate.org]
"This is a great opportunity to join over 150,000 + on a peaceful, thoughtful march that makes a huge point, we support measures to curb CO2 and other greenhouse emissions right now. This will be the largest environmental march in history." [peoplesclimate.org]
In addition to festival concerts, The No-Gas EV-Olution tour includes private "Ride & Driveway Parties" at people's homes, where a music and information is shared, along with EV car rides, with hosts' friends, neighbors local dealers and community.
Rick also performed at an EV "National Drive Electric Week" event at the Ben Franklin Museum in Philadelphia last fall that attracted nearly 4,000 people including politicians and dignitaries who got to ride in EVs. "We charged EVs directly off a portable solar array right out front of the museum stage," Rick said.
The music on Rick's "Green Sky" CD was recorded using renewable energy, and features Debra Lee on vocals, Michael G. Ronstadt on cello, Chad Watson on Mandolin, Kjell Benner on bass, with Chuck Treece on drums.
"We support systemic changes, while taking personal responsibility to be the change that is needed. Got CO2? What can you and I do to reverse that? Host a No-Gas EV-Olution concert, and together we can be part of the change by demonstrating these tips on how others can be the change, too."
The future? For this winter, Rick is has now successfully converted the methane gas furnace at Slot One Entertainment to 100% electric using parts he bought on Craigslist. "That is another $200 per month not going to the fossil fuel industry." Methane CH4 up to 84 times worse than CO2 as a global warming gas and according to the Environmental Defense Fund the harvesting of the gas is severely flawed, allowing raw methane and other poisonous gases to escape. Between the wells, coal mining and all distribution pipelines leaking as much as 60% of the gas never makes it to end use. (Years of Living Dangerously – Showtime Documentary). Methane has a global warming potential of 100 years according to the EPA.
(http://epa.gov/climatechange/ghgemissions/gases/ch4.html)
Note: To book a Drive No-Gas EV-Olution concert-program in your home or community, visit the website: www.rickdenzien.com
[Background 1: Recent economic studies show that the average American spends up to 20% of income on gasoline depending on income level. (Union of Concerned Scientists) (MSN Money) In the last 24 months Bah-Fo Studio produced, recorded and or mixed the latest music CD's from Make It Glow "Whole World Runn'n", Craig Bickhardt "Live at Sellersville Theater", Ronstadt Generations "Prelude and ", Michael G. Ronstadt "Bridging The Gap and Crazy Rhythm", Christo "Learn The Name", On My Grind "Ride to $uccess" Lyra Project "Walking Together and LP-1", JayReem "No Time", along with a long list of past successes including KGR "Half a Klip" and Blood Hound Gang "Use Your Fingers". The power went out during a session with DriveTime's "What You Won't Do for Love" feat. American Idol Justin Guarini. http://www.bah-fostudio.com/clients/DriveTime/PowerStaysOn.htm]
[Background 2: It takes 4 – 6 Kilowatts of electricity to make 1 gallon of gasoline (http://gatewayev.org/how-much-electricity-is-used-refine-a-gallon-of-gasoline) Co-Sponsored by RowanEnergyIntegration.com and www.pluginamerica.org Plug In America celebrates from September 17th to 20th The 2016 Nissan LEAF has a range of 186 miles, The LEAF's MPGE is estimated and published to be +/-114 - 126. (http://www.nissanusa.com/electric-cars/leaf/?dcp=ppn.63023882.&dcc=0.240189300&searchtype=brandret&model=leaf_G) while the Tesla currently has a range of about 300 miles. (teslamotors.com) "These cars already have more range than millions of gas cars on the road today," said Rick. Cars such as the Quant e-Sportlimousine are now getting 350 miles and work on sea water electric power cells http://www.nanoflowcell.com/en#home
[Background 3: Energy utilities such as PECO promote green energy generation from companies such as Ethical Electric – a wind power provider. https://ethicalelectric.com/referral/go/ThriveStation.com#/ PECO also pays for the first 1500 miles in your EV by sending a check for $50 to new EV owners. (peco.com)
"I'd made a vow when I bought my gas engine mini van in the '90s to go electric for my next car, when the technology was barely even known. I had my 15 year old mini van crushed, we traded in my wife's gas car, and got the 100% electric LEAF in spring of 2013."
National Drive Electric Week – September 15th – 20th. https://driveelectricweek.org
Contact
Slot One Entertainment, Inc.
Lisa Flemming
215-643-1313
www.slotoneentertainment.com
Based in Ambler, Penn., Slot One Entertainment, Inc. its record label (Slot-1) and publishing house that represents artists from www.Bah-FoStudio.com in musical genres including: Singer / Songwriter, rock, pop, hip hop and alternative.
Member
member: Am

Contact
Multimedia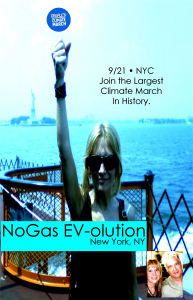 Alt. recording artist Rick Denzien inspires others to engineer their own jail break from big oil on the "No Gas EV-olution" music tour