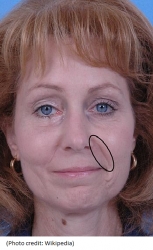 Haddonfield, NJ, September 17, 2014 --(
PR.com
)-- One of the toughest skin problems to improve, are the "smile lines"- -the deep wrinkles on the sides of the nose (called Nasolabial Folds), and deep wrinkles around the mouth and jaws.
Now, both women and men can utilize a skin cream that can help lessen these deep "folds" and lines from the side of the nose to corners of the mouth.
The skin care breakthrough was developed by Reviva Labs, Haddonfield, N.J., a 40-year-old firm noted for its many skin-care "firsts." It's a skin cream called "Reviva Labs Nasolabial Fold + Multi-Peptide Cream."
Health Food stores nationally plus select cosmetic stores will be among the first providers.
According to a Reviva spokesman, "No skin care product can claim it can totally remove deep nasolabial (nose) folds. But now we can help reduce the appearance of these severe aging lines."
Reviva research indicates that nasolabial folds are not only the result of years of facial movements like smiles, etc. – but also the loss of "cheek fat." With age, the fat falls down toward the nose causing skin sagging and folds.
Reviva Nasolabial Fold + Multi-Peptide Cream's complex formula not only includes a combination of peptides that address deep wrinkles, but special new peptides that can help soften, plump up, and help folds look less pronounced.
Free Information
Details on nasolabial folds and deep lines near nose, mouth and jawline are available in free informative literature available from Reviva Labs, Haddonfield, N.J. (www.RevivaLabs.com)
The literature also suggests specific exercises to improve these normally hard-to-treat facial areas.
Note to Editor: For a free sample of Reviva Labs Nasolabial Fold, and descriptive brochure, contact: Elena Cruz, American News Services, at 29 Bala Ave., Ste. 114, Bala Cynwyd, PA 19004; Tel.: 484-562-0060; E-Mail: adcomtimes@aol.com.