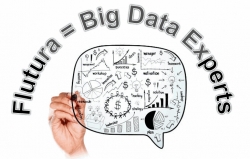 Houston, TX, October 03, 2014 --(
PR.com
)-- According to Krishnan Raman, Co-Founder & CEO of Flutura, "Mid-Size Enterprises with revenues under a billion dollars are itching to surpass their multi-billion dollar competitors by staying agile and leveraging Big Data strategies to accelerate their growth. Big Data Analytic is about fully understanding complex information, data behaviors, improving critical processes and minimizing churn. Our global team of Big Data Analytic Experts are here to do just that and to support the CIOs agenda."
60 Days Roadmap to Big Data: The Experts from Flutura Data Sciences today announced an offering for CIOs who are interested in accelerating their IT Department's ability to offer Big Data and Analytic-As-A-Service (AAAS). Within 60 Dayas, Big Data Strategists, Analytic Experts and Data Scientists from Flutura will work with you and your IT Management team to educate, establish and define the following:
+ Creating a CoE (Center of Excellence) on Big Data
+ Begin the framework for Analytics-As-A-Service (AAAS) within IT
+ Help you design and define Big Data Architecture components
+ Discover a single "Use Case" tailored to your organization
+ Creating a single and live application according to the use case by leveraging Flutura's ROVI accelerated analytic framework
The 60 Days Roadmap to Big Data is priced at $99,000 USD and this is a limited offer from Flutura to energize and infuse the acceleration of Big Data Analytic into the industry. "We believe that the more CIO's understand Big Data, the more CIO's will be included in the Board Room on leading businesses rather than taking orders. We believe in the roles of the CIO and we are here to make IT happen!"
About TechExecs Network
The TechExecs Network™ (www.TechExecs.Net) continues to advance the careers of the next generation of IT Leadership, promote stability, connections, and advocacy for the Information Technology community as a whole, and provide an interactive forum for over 370,000 contacts nation-wide.
About Flutura:
Flutura is the authority in predictive analytic and data sciences with a global team of Big Data Experts that help Businesses quickly make sense of their complex information so they can take immediate actions to increase revenue, reduce costs, streamline processes and improve customer retention. Flutura's Data Scientists only work with "growth-focused" companies to deliver uniquely tailored and mission-critical Data Analytic Solutions to achieve the impossible in leveraging massive amount of data being collected. Fortune 500 Companies, including GE and Honeywell, have been using Flutura as their strategic partner in Big Data Analytic and creating stakeholders' data visualization dashboards giving them better insights into their decision making processes. Over 75% of the CIOs surveyed in CIO Review indicated Big Data as their next portfolio offering in their Information Technology division because data analytic solutions align closely with chief executives' goals and objectives, and CIO Review ranked Flutura as the Top 20 Most Promising Big Data Companies.
Big Data Workshop Offering:
Flutura believes in the "servant-leadership model" and is actively increasing CIO's understanding, knowledge and awareness of this transformational Big Data generation by providing countless number of Big Data 101 online and in-person workshops throughout the US. To find out how you can sign up for this complimentary/free workshop, please contact Workshop@FluturaSolutions.com
To learn more about Flutura 60 Days Roadmap to Big Data, please contact
Workshop@FluturaSolutions.com