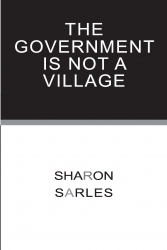 Cedar Park, TX, October 23, 2014 --(
PR.com
)-- "The Government is not a Village," by Sharon Sarles, was released in pre-publication version today (Organizational Strategies Training, Consulting and Publishing). The paperback continues the dialog on early childhood education that Hillary Clinton called for in the 1990s, reviewing the worsening statistics in face of ever increasing government control of early education. Particularly, the increase in the rate of single parent families (from 20% in 1996 to 37% today per Census Bureau), negatively impacts the health and education of preschool children, portending future academic difficulties, both Clinton and Sarles agree.
However, research robustly demonstrates the correlation between academic achievement and religious affiliation (W. Jeynes, 2003 Religion, Education and Academic Success, a meta-analysis of all relevant research). Researchers suggest that since all religious schools aim at character development, their students demonstrate more self-application, and thus higher academic achievement (Ibid.). This finding suggests a way forward not previously recognized.
Sharon Sarles asserts congregation affiliated schools contribute disproportionately to quality education, yet are sometimes targeted by regulators and policy makers. With abundant quotes, Sarles avers that the Judeo-Christian tradition has always been deeply interested in the educating and training of children, and our nation's founding fathers had much to say about the necessity of founding public education infused with Judeo-Christian character formation.
Therefore, rather than over-regulating private schools and rather than increasing the reach of expensive, broken public programs, Sarles suggests we should appreciate the religious schools and follow their lead: in teaching manners, morals, and character development, as was routine prior to 1962.
The Right wishes to divest itself of responsibility, observing that "it takes parents to rear children," ignoring the consequences of not caring for a large percentage, perhaps 1/3, of our nations' children. Those on the Left, continue to support both increasing programs that have not worked and continuing to promote cultural policies that worsen the situation by increasing the unwed birth rate. Numerous studies indicate that expanding preschool programs does not increase health or IQ or long-term achievement. Sarles contends that enforcing the worst education on all is counterproductive. Improving it sufficiently is beyond realistic expectation, budgetary and otherwise.
So therefore, Sarles suggests that although we must use public funds to care for children whose parents are not able to care for and educate them, the root of the problem is a moral one, and therefore must be addressed with moral solutions. Policies that hope to fix social ills through programs that increase the root of those ills are doomed to fail. Educators, sociologists, and policy makers alike have failed to see the bigger picture, but seeing it, we see the way forward: character training.
The book is available POD at
www.thegovernmentisnotavillage.com
.
Sharon Sarles, Montessori Diploma, M.Div., M.A. (Sociology) is available for interview at 512/249-7629 (landline).