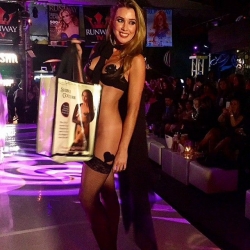 Los Angeles, CA, October 23, 2014 --(
PR.com
)-- On October 16th, Runway Media Group, along with A&M Productions, hosted Rock That Fashion IX at Lure Nightclub in Hollywood, CA. The star-studded, media-only event, was in celebration of the launch of RUNWAY TV®, RMG's new state of the art, super-computer driven fashion channel, the release of the magazines Fall 2014 issue and L.A. Fashion Week.
The event was a sight to behold. Choreographed dancers and fashion installations were thoughtfully placed throughout the venue, moving fluidly to the pulsating music, while attendees sipped and snacked on the catered delicacies. Celebrities and royalty in attendance included Runway's Fall 2014 cover star, Entertainment Tonight's Nancy O'Dell, His Highness Prince Mario-Max zu Schaumburg-Lippe, comedian Andy Dick, members of the Jackson family, and many secret guests. RUNWAY's CFO Jay Falz had 5 areas open for his VIP guests and there was never an empty glass. Djing the event were Feenixpawl, DJ Morningstar, and Runway's own CEO Vincent Midnight's new Hollywood DJ project K17
www.soundcloud.com/k17
. #rockstarceo
Designer Datari Austin opened the evening with his latest SS15 collection. Sensitive feminine silhouettes made their way down the intimate runway, expressing the modern sophistication Austin is known for. Next on the runway, Latin designer Willfredo Gerardo captivated the crowd with the intricate detailing and elegant sensual cuts of his Fall capsule inspirational gowns. Filipino couturier, Cary Santiago showcased his signature aesthetic, brimming with the dramatic structured designs that have gained the designer mass attention in his home country and throughout the US. The exceptional artistic talent of celebrity costume designer Shokra closed the evening. Shokra's unique and unapologetic designs embody the creative spirit of Rock That Fashion.
Sponsors for the event included Diabolo French Soda, Delisun Confectionery, Above All Catering, Shibue Couture, Swiss Precious Cards, W Hollywood, Beats by Dr. Dre, Fender, Neo Oil and Gas, KGB Spirits, Hubert's Lemonade, Entertainment Tonight and Kelly Lash, with proceeds from the nights event going to VH1's Save The Music Foundation.
Overall, the event was a beautifully orchestrated fusion of music, dance, fashion, art and pop culture that made everyone there feel like royalty.
Quotes from the Event:
Her Highness Princess Dalal Al-Saud:
"I had an amazing time at the Rock That Fashion event. It was posh and very well put together. I enjoyed seeing the mixture of modern and retro rock and roll fashion. Runway – TV/magazine has an amazing perspective on fashion internationally and I am looking forward to the next issue."
Carol Connors: (Singer-Songwriter)
"Yo... not only was Runway's, 'Rock That Fashion' Shake Rattlin' and Rollin' into the wee hours of the night, It was a runway hit... in other words... A Knockout."
Andy Dick: (Comedian-Actor)
"Amazing Event, non-stop entertainment for hours."
Prince Mario-Max Schaumburg-Lippe: (Royalty of Denmark)
"The party Runway put together was spectacular, of its own and Royal class!"
Michel Shane: (Movie Producer)
"I really enjoyed myself, this was a great event, not your typical model Hollywood party. It was lively, the fashion show was unique and the people who attended were all types from glamour girls and actors, to suicide girls and actresses. The crowd related and partied early into the morning... everyone being friendly and relating and that's what makes a great event... can't wait for the next one."
Images from the event:
https://www.dropbox.com/sh/y2tqtryoiwpjblp/AACpHaos1mUNGXFS68rJtd1oa?dl=0
https://www.dropbox.com/sh/u40l5vu999j1fi2/AABXhTUgX9i2aK5JrQHjGBpRa?dl=0
For more information on RUNWAY Media Group, Inc., visit
www.Runway.Net
.
RUNWAY is a selective celebration of the inspirational designers, entertainers and artists that bring beauty, grace and elegance into our lives. Fashion and beauty are not simply about image; these elements are a cultural barometer for what is going on in society and in the lives of women. RUNWAY delivers fashion, celebrity news and great advice via all forms of media including TV, High Quality Print, Apps, websites and social media.
www.facebook.com/runway
www.twitter.com/runway
http://instagram.com/runway