US-China Climate Change Deal: EU Initiative Calls on Innovators to Exceed Targets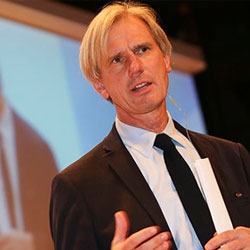 Brussels, Belgium, November 17, 2014 --(
PR.com
)-- Bertrand van Ee, CEO of Climate-KIC, the EU's largest public-private innovation partnership focused on mitigating and adapting to climate change, has called on innovators and entrepreneurs to step up their "open innovation" efforts to bring down CO2 emission levels, boost the clean economy and exceed current targets.
Following recent commitments to further cut greenhouse gas emissions by world leaders in the United States, China and across Europe, Van Ee urges innovators to harness the new momentum to develop the tools and technologies that will deliver more emission reductions and create more jobs in the clean economy.
Van Ee said: "With the US and China now following the EU's lead in their commitment to deal with climate change, policy makers around the world have set clear targets. It is now up to the world's innovators to deliver more solutions to bring down CO2 levels."
"Our aim should be to not just meet current targets, but to exceed them by practicing "open innovation" to speed up the process and share both the risks and rewards among partners," he said.
At the European Parliament's '6th European Innovation Summit' in Brussels on 18 November 2014, Van Ee will stress that the answer to delivering goals set by policy makers lies in "open innovation" where partners both share the risks and reward of innovation. More collaboration will deliver results sooner and boost national and regional economies in Europe and around the world.
Scaling up efforts in Europe's regions
Van Ee will highlight how the scaling up of open innovation efforts around Europe, including more coordination between EU low-carbon investment programmes on regional levels, can provide a major boost for climate change mitigation and adaptation.
"The deal is not just good news for the future of the global clean energy sector, but also for the wider green economy. Scaling up the development of clean-tech innovation will certainly impact global targets, but it will also create huge business opportunities at a national, regional and city level," said Van Ee.
He added: "A significant amount of Europe's low-carbon investments are made at the sub-national level. We can scale up the development of solutions to climate change by better coordinating these investment programmes. Climate-KIC is taking the lead on this in regions around Europe."
For example, Climate-KIC and Poland's Lower Silesia region have agreed to coordinate their multi-million Euro investment programmes. Lower Silesia is aiming to spend over €600 million of its European Structural and Investment (ESI) funds to support its low-carbon economy over the next seven years. Climate-KIC has committed to investing around €400 million annually to support its pan-European activities during the same period.
Demand for skills and knowledge
In Brussels this week, Van Ee will also say that to help fuel the new economic opportunities, business educators need to step up their game to meet the demand for new skills and knowledge.
Van Ee stressed: "In order to fuel these economic opportunities, we must also ensure that business schools and universities – whether in China or in Europe – are producing the leaders with the knowledge and skills needed in the new economy."
"In Europe, we are already working with institutions to deliver this and we are reaching out to partners around the world. Global business education needs to be more integrated, more interdisciplinary and more open to meet the demands of the climate change challenge," he said.
"The commitment to restricting CO2 emissions by the world's largest carbon emitters is a major development in global climate politics. We could now see a more level playing field for companies across the globe to act together to reduce carbon levels. There is no other way to solve the climate change challenge but to work together with innovators and policy makers around the world," said Van Ee.
Climate-KIC already supports hundreds of open innovation projects and entrepreneurs across Europe to help scale up the immediate climate action that is needed. Launched by the EU's European Institute of Innovation and Technology (EIT) in 2010, the public-private partnership now works with a community of 240 large and small companies, universities, research centres and city and regional governments to help bring down CO2 levels and create jobs in the clean economy.
More about Climate-KIC's presence at the 6th European Innovation Summit:
Notes For Editors
More about Climate-KIC's presence at the 6th European Innovation Summit:
http://www.climate-kic.org/6EIS
Start-up example: aQysta
A great example of this is aQysta, a Dutch start-up that was recently honoured as the Europe's most-innovative clean-tech venture by winning Climate-KIC's 2014 Venture Competition.
aQysta's hydro-powered pumps help small to mid-scale commercial farmers increase crop yield up to 5 times and replace diesel-powered systems by enabling the irrigation of fields without using any fuel or electricity. As well as the environmental benefits of this technology, aQysta's business proposition – enabling the pumps to be manufactured locally – is truly sustainable, raising local prosperity whilst also reducing emissions.
Climate-KIC's Accelerator supports over 120 companies like aQysta every year – giving them the funding, mentoring and access to potential partners and customers they need to bring their innovations to market. Collaboration between sectors and across national borders is vital for delivering on the goals that Europe, China and the US have now set.
www.climate-kic.org/press-releases/climate-kic-reveals-europes-best-clean-tech-innovation-2014/
Project example: Oasis
Another example of how collaboration between innovators boosts the green economy is Climate-KIC's Oasis project, which has won the Innovation of the Year award at the London Market Awards 2014.
The project has developed a unique open software environment where extreme weather models are combined with models of damage and financial loss. Although the insurance industry is expected to be a major user of the software, the package is useful to anyone who is interested in natural catastrophes including risk managers in large corporations and policy makers.
Bringing together over 40 of the world's leading insurers, reinsurers, ICT businesses and weather modellers the project is are already making insurance for extreme weather events more accessible and precise.
http://www.climate-kic.org/press-releases/major-breakthrough-in-prediction-of-financial-damage-as-a-result-of-natural-catastrophes/
About Climate-KIC
Climate-KIC is the EU's main climate innovation initiative. It is Europe's largest public-private innovation partnership focused on mitigating and adapting to climate change. Climate-KIC consists of companies, academic institutions and the public sector.
The organisation has its headquarters in London, UK, and leverages centres across Europe to support start-up companies, to bring together partners on innovation projects and to educate students to bring about a connected, creative transformation of knowledge and ideas into products and services that help mitigate and adapt to climate change.
Climate-KIC is one of the Knowledge and Innovation Communities (KICs) created in 2010 by the European Institute of Innovation and Technology (EIT), the EU body tasked with creating sustainable European growth while dealing with the global challenges of our time.
Climate-KIC's 12 European hubs are based in: London, Paris, Berlin, Zurich, the Netherlands, Copenhagen (Nordic region), Valencia (Spain), Central Hungary, Emilia Romagna (Italy), Lower Silesia (Poland), Hessen (Germany) and West Midlands (UK).
Climate-KIC contact
Angela Howarth
Head of Communications, Climate-KIC
angela.howarth@climate-kic.org
+44 (0) 20 7492 1972
Media contact
Mona Ghobadi/Katie Ward
Wildfire
climatekic@wildfirepr.com
+44 (0) 208 408 8000
Contact
Climate-KIC
Angela Howarth, Head of Communications
+44 (0) 20 7492 1972
www.climate-kic.org

Contact