National Park Service Partners with Non-Profit for Art Programs
National Park Service (NPS) partners with non-profit National Parks Arts Foundation (NPAF) at Fort Union National Monument for First Ever Fort Union Artist in Residence Program. To Honor the NPS Centennial 2016 and Further the NPS "Call to Action," NPAF programs provide Fort Union National Monument and other parks education, arts and public programs by successful artists and curators. Fort Union Artist in Residence Program is uniquely designed as to the inspiration of park resources.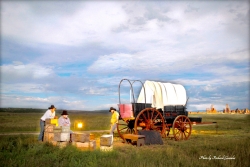 Santa Fe, NM, December 24, 2014 --(
PR.com
)-- National Parks Arts Foundation and the National Park Service at Fort Union National Monument Announces Innovative Artist-in-Residence Program
The Fort Union National Monument, in cooperation with the non-profit National Parks Arts Foundation (NPAF) announced today the establishment of a new program to host an artist in residence at the Monument, the Fort Union National Monument Artist in Residence (AiR) program. The artist(s), will be selected by NPAF world renowned curators and advisors, through application starting on December 26 for the October 2015 residency.
The NPS has recently issued "A Call to Action" a path-breaking document that sets out 30 high-priority focus areas at the start of the Park Service's second century. The Fort Union National Monument Artist-in Residence program will be another interactive public feature to highlight and honor the upcoming Centennial of the National Parks in 2016. As the Monument's Superintendent, Charles Strickfaden, explains "The Artist in Residence program not only aids in the ushering in of the National Park Service's centennial, but also offers artists and visitors alike to view Fort Union in new and innovative ways. Whether the media is on canvas, video, audio, prose, marble, clay, or some other form of artistic expression, I am excited to see how Fort Union will be depicted through the eyes, minds, and hearts of the artists."
NPAF founder Tanya Ortega of Santa Fe, started working with the National Parks in 1989. But she also takes her role of curator and facilitator very seriously. "I don't think art should be something you have to go to a museum to experience. Art, well -- at least since the 1960s -- is not just something that is over there, behind some red velvet rope or in some gallery. Art is being right here, getting dirty, interacting, mirroring, and contrasting with natural beauty," she says.
Artists may apply with their proposals for this residency and find additional information at www.nationalparksartsfoundation.org. Upon completion of their residency, the artist will donate a work through NPAF for the Monument's collection of exhibits and artwork for education and future generations. The Fort Union National Monument Artist in Residence program will offer educational public programming, lecture(s) or workshop(s) during their residency.
Artists always need a fertile place to get away from the everyday. "These days we love our gadgets and technical environments and take them much too seriously. To me, places like Fort Union or Bryce Canyon or Big Bend become the really important places. They are the exception to the rule. Always have been, and they always will be." What works for the professional creator works for visitors too. Adds Ortega, "What this program is really about is a cycle of inspiration. We connect the artist to this place, the park setting works its magic, the work gets done, visitors get to see and feel, and be inspired by the results."
This program, implemented with great success by NPAF at other National Parks, allows visitors to see the Monument through the eyes of world-class artists and visionaries. Fort Union's Artist-in-Residence will also directly interact with monument visitors by speaking about their art projects and interests during on-site workshops and lectures.
National Parks Arts Foundation is a non-profit 501c3 charitable foundation.
The AiR program is made possible through the philanthropic support of donors of all sorts ranging from corporate sponsors, small business, and art patrons and citizen-lovers of the Parks. For more information on Fort Union National Monument's Artist-in Residence program, go to: www.nationalparksartsfoundation.org, email info@nationalparksartsfoundation.org or call 505-715-6492.
Fort Union National Monument, located in Mora County near Watrous, NM, played a key role in shaping the destiny of the Southwest. Constant military conflict and continuous cultural exchange among different ethnic groups has made the fort and adjacent communities in this region legendary in American history. Totaling 720+ acres, the monument boasts remnants of a Civil War Era earthwork, along with a post-civil war era adobe fort, Quartermaster Depot, Hospital, Arsenal, Military Prison, and well-preserved Santa Fe Trail ruts. Under the Eisenhower administration, the historic structures and remnants of the fort, and Trail ruts in its vicinity was designated a National Monument in 1954.
Fort Union (1851-1891) was the largest military post and supply center of the southwest. The National Park Service preserves and tells the story of Fort Union and the Santa Fe Trail. Fort Union National Monument is located near Watrous, exit 366 off I-25, 8 miles on NM-161.
For further National Parks Arts Foundation information contact NPAF at admin@nationalparksartsfoundation.org ,(505) 715-6492, or website and social media:
Website: http://nationalparksartsfoundation.org/ Facebook:https://www.facebook.com/nationalparksartsfoundation or Fort Union National Monument (505)425-8025.
Contact
National Parks Arts Foundation
Cecilia Wainright
505-715-6492
nationalparksartsfoundation.org

Contact
Multimedia
Attached is PDF of Press Release Body