Legendary San Francisco Drag Queens Buy a Nightclub and Present "Sex and the City LIVE!"
SFs hottest new nightclub and cabaret venue, Oasis, is owned by legendary San Francisco Drag Queens, Heklina and D'Arcy Drollinger. They're bringing back their wildly popular "Sex And The City: Live!" every Thursday-Saturday in March. Perfect for bridal showers, girls night out, gay theater or just a rollicking good time on the town. Tickets and information at sfoasis.com.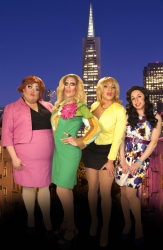 San Francisco, CA, March 03, 2015 --(
PR.com
)-- When Darren Starr, creator of the hit HBO series Sex And The City, went to see his creation performed live by drag queens he declared, "I loved it! It was funnier than it was on TV." And you will agree.
The same people behind the sold-out runs of the show over the last four years are back, but now they're in the sparkling new SoMA cabaret show palace, Oasis, and they own it.
It is not every day that drag queens open a club, and these are not just any drag queens. The partnership includes legendary San Francisco Drag Superstar Heklina, producer of the 20 year old club Trannyshack, and comedic drag powerhouse, D'Arcy Drollinger. These two have been wowing audiences for decades and have designed a jewel of a venue. San Francisco now has a theatrical home for unique, edgy and sexy shows in a comfortable 140 seat theater with cocktail tables and table service. They call it Oasis, because with so many local performance venues closing it really is.
Oasis is the perfect spot to enjoy "Sex And The City: Live!" – a send up of the ground-breaking series that single-handedly brought back the Cosmopolitan and premarital sex. The show includes two episodes, each tackling modern social issues including sexuality, sexually transmitted diseases, safe sex, promiscuity, femininity and of course shoes - while exploring the difference between friendships and relationships.
This production of Sex and the City LIVE! will premiere two brand new episodes beginning Thursday March 5, 2015 at OASIS – 298 Eleventh St. @Folsom, SF CA 94103. Sex and the City: Live! plays every Thursday, Friday and Saturday in March at 7:00 pm. Each performance will feature two episodes based on the iconographic TV show that ran on HBO from 1998–2004 (now in syndication). Tix are $25 in advance at
http://sfoasis.com
, $30 at the door.
Sex and the City: Live! features some of San Francisco's most notorious drag performers including: Sue Casa (Carrie Bradshaw), D'Arcy Drollinger (Samantha Jones), Lady Bear (Miranda Hobbs), Steven LeMay (Charlotte York), and more. Directed by D'Arcy Drollinger. Costumes by Tria.
Contact
Oasis
Geoff Benjamin
415-795-3180
sfoasis.com

Contact
Multimedia
Sex and the City: Live! every Thur-Sat in March, features some of San Francisco's most notorious drag performers including: Lady Bear (Miranda Hobbs), Sue Casa (Carrie Bradshaw), D'Arcy Drollinger (Samantha Jones), Steven LeMay (Charlotte York). Photo by Mr. Pam