eWaste Tech Systems Celebrates Earth Day Throughout the Year; Richmond-Based Electronic Waste Recycler Announces Events Through May
eWaste Tech conducts electronic waste recycling drives in partnership with the Central Virginia Waste Management Authority and provides pick-up services for government, non-profit and businesses in the Richmond-Washington, DC area. Upcoming e-waste drives include: April 25 and May 9 in Henrico County and May 30 at Midlothian High School with the local Girl Scouts Troop 665.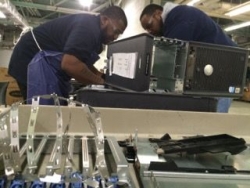 Richmond, VA, April 22, 2015 --(
PR.com
)-- How do you celebrate Earth Day? Add Responsible Recycling to your list of things to do. This effort will ensure that obsolete laptops and cell phones, broken computers, dead printers, and a host of other electronics do not find their way into landfills. Unfortunately, if not recycled in a safe and responsible manner, these products leak toxic chemicals and cause other environmental damage.
eWaste Tech Systems
, a Richmond-based company is providing a unique solution to the serious problem of electronic waste (e-waste). In the process, eWaste Tech Systems is revitalizing a neglected community and offering living wage jobs.
Located in a HUBZone (Historically Under-utilized Business Districts), eWaste Tech offers complete IT Asset Lifecycle solutions, including data destruction, and electronic recycling and refurbishing. It is one of the only Responsibly Recycled (R2) Certified facilities owned and operated by a Small Disadvantaged Veteran Owned Business (SDVOB) within the Commonwealth of Virginia.
Since opening its doors in August 2014, eWaste Tech has conducted e-waste recycling drives in partnership with the Central Virginia Waste Management Authority (CVWMA.org) for the City of Richmond, Hanover County, New Kent County, and Powhatan County. Upcoming e-waste drives include: Henrico County on April 25th at Twin Hickory Library, 5001 Twin Hickory Road in Glen Allen and on May 9th at Old Best Buy Plaza, East Parham Road just past the I-95 interchange in Richmond. Both Henrico County recycling events will be held from 10:00 AM until 2:00 PM. In addition, eWaste Tech will sponsor an electronic waste drive with the Midlothian Girl Scouts Troop 665 on May 30 at Midlothian High School from 9:00 AM until 2:00 PM.
eWaste Tech primarily collects computers, laptops, towers, printers and other peripherals, batteries, phone systems and cell phones. In addition, it collects other e-waste consumer products, including CRT monitors and televisions for a $13.00 fee. The company offers peace of mind for weary consumers by providing data destruction services. Since its first collection, eWaste Tech has processed approximately 500,000 pounds of e-waste in its R2 (Responsible Recycling) Certified facility.
eWaste Tech has also hired 16 employees, 67% who live within the HUBZone. According to eWaste Tech CEO Felipe Wright, "Our company distinguishes itself from other electronic waste recyclers by creating sustainable, living wage jobs to citizens in need of second chances. In addition, we focus on promoting community awareness, education and community partnership."
The Environmental Protection Agency indicates that reusing and recycling consumer electronics conserves our natural resources and avoids air and water pollution, as well as greenhouse gas emissions, because electronic products are made from valuable resources and highly engineered materials, all of which require energy to mine and manufacture them, For example, recycling one million laptops saves the energy equivalent to the electricity used by 3,657 US homes in a year.
It's essential that each of us take responsibility for addressing the global challenge posed by e-waste.
Contact
eWaste Tech Systems, LLC
Marva Goldsmith
(804) 716-3577
ewastetech.com

Contact
Multimedia
The attached list of recyclable materials are eligible for pick up or collections.