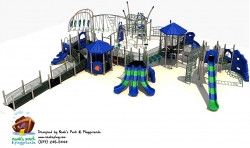 Edmond, OK, June 16, 2015 --(
PR.com
)-- The Edmond Public Schools administration made an investment in outdoor recreation for six of its schools to help integrate the involvement of the school's students with physical disabilities along with their more able-bodied peers during recess. All six of the structures are specifically designed and built to accommodate children ages 5 to 12 years of age, who have various disabilities. ADA compliant safety surfacing will also be installed to assist these students, as well as ADA transfer stations on each structure.
Angie Debo Elementary School, Centennial Elementary School, Charles Haskell Elementary School, Cross Timbers Elementary School, Washington Irving Elementary School and Westfield Elementary School are among the 6 schools that will be getting the "playground facelift" this summer.
Each of the six, brand new custom play structures, were specifically designed for each school's budget and specific needs of their students. Once built, each structure will be completed with the proper, required depth of playground certified wood mulch, as well as safety-rated wear mats for single, double and spiral slide exits. For ADA compliant access to the playgrounds, Angie Debo, Centennial, Charles Haskell, Washington Irving and Westfield designs include ADA compliant access with concrete ramps which will connect the sidewalk(s) to the new play structures.
In addition to the custom structures, two schools have purchased the Freenotes Harmony™ Park outdoor musical instruments, which are handmade and specifically designed for less able-bodied individuals of all ages. The two schools installing Freenotes Harmony™ instruments are Washington Irving and Westfield Elementary. Washington Irving has chosen the Weenotes Ensemble Package which includes the Piper, an 11-note resonating xylophone, the Merry, also an 11-C-note resonating xylophone style panel, and the Griffin, a tall, 11-note resonated metallophone chime. The instruments are grouped together under a new 20'x30' shade structure. Westfield Elementary staff also liked the Freenotes Harmony™ Park outdoor instruments and chose the 'Basic Ensemble Package' which includes the Pegasus, a hefty 23-note resonating metalphone, the Yantzee, a 10-low-note resonating metallophone, the Manta Ray (looks like manta ray) a 36 note metalphone, aluminum chime.
"We are honored to be working with Edmond Public Schools in their effort to update their equipment, which will allow ADA compliant access for all students," says Shan Shepherd, owner of Noah's Park & Playgrounds in Edmond. "Designing all six playgrounds was quite extensive, and we're very proud of all the designs and equipment proposed for each school. We feel each school is getting what they specifically want, and more importantly need for their students."
Noah's Park & Playgrounds' Installations Crews have already started the prep work on several of the schools, tearing out or moving existing equipment, with the goal of completing all six playground projects before the start of the 2015-2016 school year in August.
About Noah's Park & Playgrounds, Inc.
Noah's Park & Playgrounds has provided commercial-grade park and playground equipment, on a national level, to housing communities, schools, churches, daycare facilities, special-need centers, non-profit organizations, city parks, developers, and many more. Noah's Park & Playgrounds provides a vast selection of items from early childhood playgrounds, indoor playgrounds, ADA accessible play pieces, outdoor fitness equipment, sports equipment, and park amenities such as tables, benches, trash cans, bleaches, and shades. Noah's Park & Playgrounds specializes in design and bid consultation, commercial playground installation services and custom playground design services.
For questions and more information about the Edmond Public Schools' playground projects, or Noah's Park and Playground's products and services, please call (877) 248-5444, email us at
info@noahsplay.com
or visit our website at www.noahsplay.com