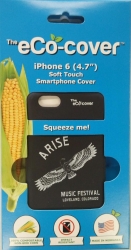 Denver, CO, August 06, 2015 --(
PR.com
)-- The ARISE Eagle soars on the black iPhone 6 eCo-cover™, the worlds first "non-GMO corn rubber" protective iPhone case. The Soaring Eagle eCo-cover™ was printed exclusively for the ARISE festival 2015. VIP's and performers shall be receiving this exclusive "green" eCo-cover™ compliments of the ARISE Festival 2015 to protect their iPhones during and after the concerts.
Participants purchasing these protective eCo-cover immediately gain an unbreakable, impact-resistant, baby-safe (BPA-Free), bee-safe (GMO-Free corn), Earth-safe (compostable/biodegradable and plastic-free) and USA made product. They are made in Nebraska (where corn is grown).
This Loveland, Colorado 3 day ARISE festival, sets out to educate participants on local, regional and national environmental issues, as well as provide health and lifestyle oriented classes for participants of all ages and varied interests. This multiple day festival is a forum for speakers from various environmental non-profits to drive critical conversations for a sustainable future.
The covers sold at the ARISE music Festival or online at www.TheEcoCover.com will not only help support environmental causes, these unique soaring Eagle iPhone Covers could also allow participants to continue the festivals' conversations when participants go back to their homes and community.
Launched in March 2014, the eCo-cover™ started with the 4/4S and 5/5S iPhone models, and quickly became sold in 6 states in a variety of stores. In 2015, the iPhone 6 and iPhone 6 Plus were added, with the eCo-covers expanding into more independent cell stores, phone repair stores, and natural food stores throughout the USA. The launch of the eCo-cover for Samsung models is coming soon.
Children love going green with the eCo-cover. Colored with natural minerals and printed with edible ink, emblems of school logos grace the eCo-cover™ face used as fundraisers for schools and sport academies across America. Instead of cookies, the kids are selling eco-phone covers. This week, the eCo-cover™ launched a new fundraiser to help protect endangered species, like Lions.
Cecil the Lion eCo-cover
For over twelve years, the eCo-cover founders have pushed the eco-product envelope, being featured on Modern Marvels History Channel, and CNN. The eCo-cover™ was showcased on Channel 2 on Earth Day, 2015.