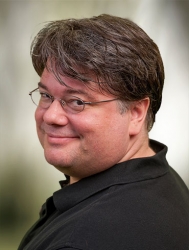 New London, CT, August 11, 2015 --(
PR.com
)-- Carl Franklin has been a software developer since the early 90s. Last year, after interviewing Mark Seemann, a guest on his podcast, .NET Rocks! about getting into a state of Flow as a programmer, he was inspired to create a collection of music that would help software developers get into that prized mental state and stay there.
He launched a Kickstarter campaign for a CD of music he called "Music to Code By." The campaign was funded and then some. After a successful release, the three original 25-minute tracks are still selling like hotcakes. As well, Franklin has created several more tracks. His users can't get enough.
Besides the steady flow of 5 star reviews and comments on the website, one that stands out is this comment from the parent of a child that wouldn't sleep:
"I have to say that the greatest thing about Music To Code By is that it has helped my one year old child to sleep. Since the day that he was born, he has been a restless sleeper and always struggled to go down. I can honestly say that the only thing that helps him is your music and he sleeps much better, and as such, my wife and I get more sleep as well. Whatever the music is doing to him...its working."
What's the secret sauce? Franklin says he "chose the range of tempo carefully based on scientific studies of how the brain reacts to music. At a certain tempo alpha waves are generated, which have been associated with a deep sense of concentration and focus."
He also said the hardest part was to walk a fine line between being neither boring nor distracting. The last thing you want is a strange sound to stick out and take your attention away from the task at hand.
The pieces are 25 minutes long, which coincides nicely with the Pomodoro Technique, a time management technique popular with software developers.
The results speak for themselves. He has sold thousands of copies since coming on the market in February, 2015. He has pledged to create a new track every month, a policy his users welcome with open arms.
Samples and downloads at
store.pwop.com
.