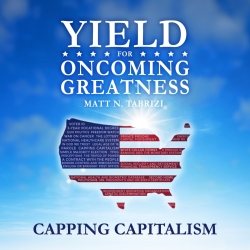 Washington, DC, August 21, 2015 --(
PR.com
)-- Thinking Hat Press, in collaboration with renowned voice artist, Tom Parks, brings Yield For Oncoming Greatness: Capping Capitalism (
YFOG
) to Audible.
YFOG sets an ambitious agenda to return America to its glory. Betting on the power of the people and the principles of democracy, YFOG rises above politics and party lines to spark ideas and discussions to overcome America's challenges.
"It is important for everyone to be involved in the discussion of how the world of our children will look and actively participate in setting its direction," writes YFOG's author, Matt N. Tabrizi. "I am excited that YFOG is now available in all formats, which simply means that everyone can access it and be a catalyst for change."
With Washington's politicians alienating people of all of ages, and with our country heading in the wrong direction, YFOG proposes ideas across a broad range of topics to correct our course, empower democracy and the people, and reduce income and opportunity disparities.
"I've had the pleasure of being the voice of over a hundred authors with many great books in every genre. It is rare to run into a book whose content touches every segment of the population," says
Tom Parks
, the narrator of YFOG. "Whether we agree or disagree with the ideas, we all can benefit from the active discussions that germinate from YFOG."
Yield For Oncoming Greatness: Capping Capitalism is published by Thinking Hat Press and is available in
Audible
,
paperback, hardcover, and Kindle
.
978-0-9962100-2-7 Hardcover printed by Ingram
978-0-9962100-0-3 Paperback printed by CreateSpace
978-0-9962100-1-0 eBook
978-0-9962100-3-4 Audible