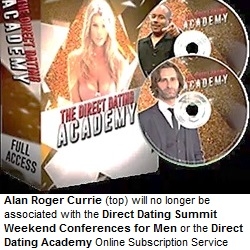 Belgrade, Serbia and Montenegro, September 16, 2015 --(
PR.com
)-- Book Author, Public Speaker, and Professional Dating Coach Alan Roger Currie of Mode One Multimedia and Publishing, Inc., has recently made it known to his fans and supporters that he will no longer be participating in the Direct Dating Summit Weekend Conferences for Men, and Currie will also not be an active contributor to the upcoming Direct Dating Academy.
Currie was one of the featured speakers at the very first 'Direct Dating Summit' Weekend Conference for Men events back in November 2010 in London, England. The event was created and marketed by an up-and-coming Pickup Artist and former comedian named Alex Lasarev, who goes by the moniker 'Sasha PUA' and 'Sasha Daygame.'
After the inaugural London event, the Direct Dating Summit was held in Las Vegas (March 2012), Melbourne, Australia (May 2012), Berlin, Germany (April 2013) and New York City (July 2013). The sixth edition of the Direct Dating Summit is set to take place in Belgrade, Serbia during the weekend of September 19-20, 2015.
The Direct Dating Academy is scheduled to launch later this month, and originally, Currie was slated to be an active contributor to the monthly subscription service. But Currie, citing "major philosophical differences" with Lasarev, recently asked the Direct Dating Academy to exclude his name and video images from their marketing and Online Academy materials.
In the Dating Advice industry and what is known as the 'Attraction and Seduction Community,' Currie is often referred to as 'The Godfather of Verbally Direct Game' among his peers and other Dating Coaches. Currie has been endorsing what is known as 'The Mode One Approach' since 1990 and he currently has three audiobooks available on Audible.com and three paperbacks available on Amazon.com
'The Mode One Approach' encourages single heterosexual men to initiate conversations with new female acquaintances in a bold, highly self-assured manner, and then proceed to express their romantic and/or sexual desires, interests, and intentions to women in an upfront, specific, and straight-to-the-point manner.
In addition to being a Dating Coach and Book Author, Currie has hosted a popular talk radio podcast program on the BlogTalkRadio Internet Radio Network, and he once taught a college-level adult education course at Indiana University Northwest entitled "Dating for 21st Century Singles."
More about Alan Roger Currie's 'Mode One Approach' can be found on http://www.modeone.net or
http://www.directapproachdating.com