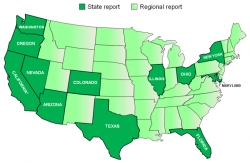 San Bruno, CA, September 23, 2015 --(
PR.com
)-- EMLab P&K, a TestAmerica company and the leading commercial indoor air quality (IAQ) laboratory in North America, helps mold testing clients in New York and Maryland through MoldRANGE Local Climate report. The patent-pending report is now available for EMLab P&K's clients who perform mold sampling in New York and Maryland. The mold lab report provides better insights for outdoor mold spore levels based on the zip code where the mold sampling took place. To receive the enhanced report, clients only need to include the location's zip code and an outside mold sample with their projects.
EMLab P&K now offers state-specific Local Climate reports for twelve states including: Arizona, California, Colorado, Florida, Illinois, Maryland, Nevada, New York, Ohio, Oregon, Texas, and Washington. In addition, EMLab P&K offers regional reports across the entire contiguous United States. The regions are based on National Oceanic and Atmospheric Administration's (NOAA) climate regions where contiguous states share similar climate characteristics. EMLab P&K is the only mold testing laboratory that offers scientifically developed tools like the MoldRANGE Local Climate report to help IAQ professionals with their mold investigations.
"We are excited to help mold investigators in New York and Maryland with enhanced insights through our Local Climate reports," said Dave Gallup, EMLab P&K's General Manager and Co-Founder. "EMLab P&K leads the IAQ industry with superior client service and innovative solutions including our unrivaled, scientifically developed tools like MoldRANGE Local Climate report. By sharing our knowledge and resources, we aim to raise the standard of excellence throughout the IAQ community."
The MoldRANGE Local Climate report was developed by a team of experienced scientists and top IT experts, using the NOAA database of weather and geography combined with EMLab P&K's proprietary database of outdoor spore trap samples with known zip codes. Local climate variables from NOAA include: Annual High Temperature, Elevation, Rainfall/Precipitation, and Monthly Temperature Range. Now EMLab P&K's clients in New York and Maryland can benefit from additional insights based on the zip code of their outdoor mold samples.
Learn more about EMLab P&K's MoldRANGE Local Climate report at
https://www.emlab.com/s/services/moldrange-local-climate.html
About MoldRANGE
MoldRANGE is EMLab P&K's industry-leading report that provides typical outdoor spore levels by region and time of year, based on data from over 600,000 outdoor spore trap samples, including over 180,000 samples that are categorized by zip code. MoldRANGE helps mold investigators make more informed judgments about what their mold data means. MoldRANGE provides the types and amounts of fungal spores that are typically present in the outside air both by time of year and region of the country. While seasonal and geographic outdoor spore data are only one part of a complete mold investigation, MoldRANGE is an unrivaled tool that helps professionals better understand that portion of their assessment.
About EMLab P&K
EMLab P&K, a TestAmerica company, is the leading commercial indoor air quality laboratory in North America with over 60 service and drop-off locations across the United States. EMLab P&K specializes in analyzing air and surface samples to identify mold, bacteria, asbestos and allergens. EMLab P&K also offers USP 797 testing, PCR testing, radon analysis, and materials testing. EMLab P&K has an extensive list of accreditations and certifications from leading organizations and government agencies including: AIHA-LAP, LLC, NVLAP, CA-ELAP, Texas DSHS and other state licensing and certification programs. For more information, visit the company website at
https://www.emlab.com
or call 866-888-6653.