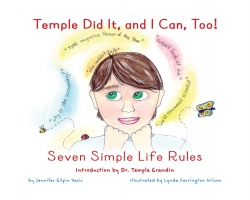 Arlington, TX, October 01, 2015 --(
PR.com
)-- Dr. Temple Grandin, the world's leading expert on autism and subject of the award-winning 2010 biographical HBO film, Temple Grandin, is an inspiration to everyone who knows her and her work. She has authored many books helping, advising, and inspiring people on the autism spectrum, but, until now, there has been no picture book to share her ideas with younger readers. That changes on October 9, 2015.
October celebrates National Sensory Awareness Month, a perfect time for the new children's book, "Temple Did It, and I Can Too!: Seven Simple Life Rules" to make its appearance. Jennifer Gilpin Yacio, president of Sensory World and editor-in-chief of Sensory Focus Magazine writes her first children's book in collaboration with Dr. Grandin. It offers a unique and helpful story of advice and insight that includes the "7 Rules for Success" directly from Temple's extensive experience, which will have a positive impact on any reader.
"I made sure to keep myself neat and clean, and always have good manners," Temple says, in "Temple Did It, and I Can Too!" along with other "rules," including - "practice and hone your skills."
Topics such as manners, hygiene, and skill development are just a few that are covered in this beautifully illustrated hardcover children's book. At the back of the book, there are worksheets to help children to identify and reach their goals, which can be completed with help from a parent or guardian.
"The other thing is, teach these kids manners. I was raised in the '50s and '60s, and manners were drilled into me. I see kids today that have no manners. That will hurt them. I see kids with Asperger's [a mild form of autism] who can't hold a job because they are constantly late. Teach kids to use an alarm clock. This is common sense and sometimes we forget about common sense. Autism is used too much as an excuse for bad behavior. We have to set examples of good behavior."
~ Temple Grandin
According to the latest data 1 in 68 children were identified with autism spectrum disorder and this number continues to increase.
- The Centers for Disease Control and Prevention
This book will be a must for kids on the autism spectrum, but every child should have this guide to reach their life goals!
Publisher, Sensory World, A Proud Imprint of Sensory Focus, LLC, is pleased to announce "Temple Did It, and I Can Too!'s" new release on October 9th, available for preorder now from all fine bookseller including: Sensory World, (www.SensoryWorld.com); Amazon (www.amazon.com); and Barnes and Noble (www.barnesandnoble.com).
Contact info:
Sensory World, A Proud Imprint of Sensory Focus, LLC.
info@sensoryworld.com
2000 East Lamar Boulevard Suite 600
Arlington, Texas 76006
888-507-2193
www.SensoryWorld.com