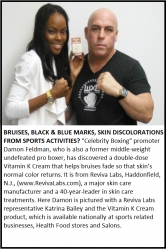 Haddonfield, NJ, October 12, 2015 --(
PR.com
)-- The "Celebrity Boxing" promoters of public events featuring well-known personalities in competitions have announced an affiliation with Reviva Labs, Haddonfield, N.J., manufacturers of all-natural skin care products.
In a coming public event for the benefit of the "Fight For Breast Cancer Awareness" two well-known female personalities will box each other.
They are Natalie DiDonato, a TV Reality star from Mob Wives vs. Charli Baltimore, Grammy-Nominated Hip Hop artist and songwriter.
Reviva Labs is donating to participants its new double-dose Vitamin K Cream that helps bruises--which could occur in boxing and other sports--fade so that skins normal color returns.
Promoter Damon Feldman, who is also a trainer, is accepting the Reviva Lab's Vitamin K Cream for distribution at the event, and for fund-raising. About 500 fans are anticipated.
It is suitable for day or night application.
Reviva Labs, now in its 40th year of producing a full line of skin care products is noted as an innovator and skin care industry leader.
For more information contact Reviva Labs, 705 Hopkins Rd., Haddonfield, N.J. 08033; Tel.: 800-257-7774; Fax: 856-429-0767; www.RevivaLabs.com.
Note to Editor: A sample can be mailed to the Editor directly from Reviva Labs. Please let us know the name and address to whom it should be sent. Contact: Elena Cruz, American News Services, at 29 Bala Ave., Ste. 114, Bala Cynwyd, PA 19004: Tel.: 484-562-0060; E-mail: adcomtimes@aol.com.