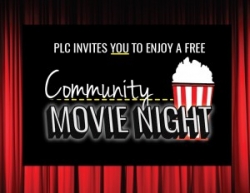 San Diego, CA, November 03, 2015 --(
PR.com
)-- PLC, SD Police Department, SD Fire Rescue PLC Entertainment Group is excited to announce the showing of its monthly, free Community Movie Night-- a program designed to help our community begin a dialogue among family, friends, and neighbors.
In addition to the free movie, free popcorn, and free ice cream sundaes, the Communitwww.plc-church.org/movie-night/y Movie Night committee will host a joint event with the SD Police Department and SD Fire Department on Friday, November 20 from 5:30-8:30 pm.
November's featured movie is Sneakers (Rated PG-13) starring Robert Redford, Dan Aykroyd, Ben Kingsley, Mary McDonnell, River Phoenix, Sidney Poitier, and David Strathairn.
The purpose of this special event is to connect people to one another by transforming our families, community, and city. This special event will provide free giveaways, prizes, information, and hands-on demonstrations from the SDPD and SDFD. All ages are welcome. Immediately following, they will play the movie Sneakers starring Robert Redford, Dan Aykroyd, Sidney Poitier, and David Strathairn. A free movie will be shown in PLC's spacious 550 capacity auditorium with 2 mega screens, popcorn, and movies. Please come out and join them for this community event, and together, show the world how we honor and respect each other here in beautiful San Diego, California.
About PLC
Peñasquitos Lutheran Church (PLC) is located in North County San Diego, California. Our vision is "to partner with the Holy Spirit to evangelize and transform our families, our city, our nation and world." Our mission is "connecting people to Jesus and to one another." PLC offers a preschool, monthly community low income food distribution, teen ministry, Christian adult education, and supports ongoing missions in 40 different countries around the world.
Additional information is available on our website at www.plc-church.org by email at office4@plc-church.org or by calling 858.672.3466.
Contact: Rachael Anduze | Communications Coordinator Tel: 858.672.3466
Email: office4@plc-church.org
Event Date: Friday, November 20, 2015 Event Time: 5:30 pm – 8:30 pm
Location: 14484 Peñasquitos Drive | San Diego, CA 92129