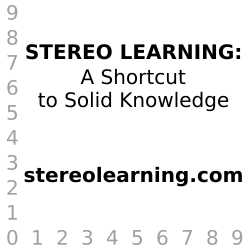 Harwich, MA, December 10, 2015 --(
PR.com
)-- The interactive presentation
STEREO LEARNING: A Shortcut to Solid Knowledge
demonstrates SIX PROJECTS working together to make STEM subjects learnable and their students teachable.
In Greek, stereos means "solid" or "firm." In modern usage, "stereo" means enhanced by one dimension. Stereo sound is two-dimensional, stereo image - three. Stereo knowledge is visualized in space and time.
Stereo knowledge takes root in a flat regular grid. Young children build layouts of colors, developing spatial intelligence, learning to understand the rules behind symmetries and patterns and counting in two dimensions.
The two-dimensional grid provides incomparably more counting material than linear settings. Stereo learners grow familiar with big numbers. They master arithmetic and elementary algebra through patterns in space and time.
The presentation was created in the same two-dimensional grid, using computer-simulated "social networks". Building them, stereo learners encounter relations at the core of science and engineering: space, time and causality. Even the simplest networks demonstrate such interdisciplinary concepts as signal, reaction, delay, hysteresis, feedback, oscillation, wave, memory, network, emergence, etc.
Stereo learning offers a course of real computer programming, in which the two-dimensional grid serves as an output and input device. It's truly elementary - the angles are right and the numbers are whole - and truly fundamental, because the elements are oversized pixels. A student is not expected to be an aspiring animator or video games designer. No talent in arts, rarely seen together with a propensity for STEM, is required. Coloring the cells of the grid, stereo learners revisit arithmetic and algebra, meet tessellations, polyominoes, moires, affine transformations, cellular automata, methods of computer graphics and animation. The realm of STEM provides plenty of programming challenges, easy and hard.