Ferrara Flame Introduces New Italkero Luxury Patio Heater Into the USA
Welcome Lightfire Dolcevita to the USA! This is the latest offering in the luxury line of patio heaters from Italkero in Italy.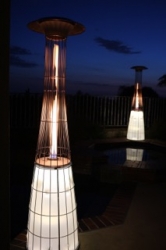 Los Angeles, CA, January 12, 2016 --(
PR.com
)--
Ferrara Flame
, the company that introduced the USA to the Falo, the luxury patio heater which was highly coveted by manufacturers worldwide, now presents the next line of innovatively designed patio heaters, the Lightfire Dolcevita designed and manufactured in Italy by Italkero!
The patented design of this next generation luxury patio heater is also a beautiful outdoor lamp as well as a heater. Offered in polished stainless steel with an LED lighting kit, natural gas or propane, optional coffee table and wheels, the Lightfire Dolcevita will enhance the ambiance of any outdoor area. The lighting kit is housed inside the body of the unit and powered by batteries making it as lightweight and mobile as Italkero's other elegant patio heaters.
Says A.K. Crump, CEO TasteTV, "The new Lightfire Dolcevita by Ferrara Flame is both functional and sexy. The sleek, curving profile accents and elevates any designed environment. In addition, the new LED lighting option means that you not only are able to be warm and dramatic with the device's trademark flames, but you can also use it to outline pathways, courtyards, or pools even when the heat is not on."
The alluringly sexy 7 foot tall Lightfire Dolce Vita outdoor gas heater by Italkero can be seen at many bars, hotels and restaurants across Europe. As the unquestionable leader in gas fired outdoor heating design and manufacturing, Italkero has stunned the world once again with this creative and original design.
Ferrara Flame is the exclusive importer of this beautiful luxury heater.
Available Q2 of 2016, contact
www.ferraraflame.com
to pre-order yours today!
Contact
Ferrara Flame by Italkero
Arabella Conti
949.282.9652
www.ferraraflame.com

Contact