Blue 22s Pop/Reggae Band Shows Heart for Valentine's Day by Donating Proceeds from Their New Single, "Ready or Not" to Bring National Awareness to ADHD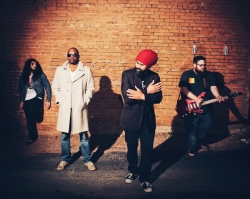 Dallas, TX, February 12, 2016 --(
PR.com
)-- Successful Pop/Reggae Band, Blue 22s will be releasing their new single and music video, Ready or Not, worldwide today to raise money for the awareness of Attention Deficit Hyperactivity Disorder; a cause that's close to their heart.
Blue 22s aren't strangers to ADHD. Four of the five core members, including manager, Stacey Turis, live with it every day and know the struggles that come with a brain that Turis claims, "sometimes has a mind of its own." Those daily struggles haven't stopped Blue 22s from topping the music charts. Their last EP, 'Sessions' hit #6 on the Reggae charts on iTunes and was a best-seller in three genres on Amazon Music.
Turis believes their focus on being their authentic selves, including the gifts that come with ADHD, is key to the band's success. "We've learned through the years what our collective strengths are and have really tried to focus on building our foundation around those strengths. That philosophy has made a world of difference in how we approach the idea of being successful. It used to be getting as many good gigs as we could pack in, but that invited overwhelm into the equation which often lead to a period of stagnation and creative paralysis. Now our blueprint for success consists of using our intuition and passion as a guiding force of where to direct our creative energy. The blueprint has made us happier as a whole, and as a by-product, more successful. We really pay attention to authentic happiness because we want to be in this game for a long time."
This unlikely and extraordinary mix of original and talented musicians were brought together mostly by the rather ordinary experience of what you might call a "day job", as rampers for Southwest Airlines. After discovering their mutual passion and talent for music; they formed the band, 'Blue 22s', named after the blue color of their work uniforms and '22' referring to the types of bags they load onto the planes. The Members of Blue 22s are John 'Lole' Lolesio-Pua (Lead Vocals and Keyboard), Brack Key (Bass, Guitar and Vocals), Valenti Funk (Drums) and Alexander Rivera De Jesús (Guitar).
Ready or Not will be available for digital download everywhere on Friday, February 12th with a portion of profits going to national ADHD advocates; CHADD, ADDitude Magazine, and ADD Resources Center. The Ready or Not music video will premiere worldwide the same day on the Blue 22s' Youtube channel and numerous social media sites.
Contact Stacey Turis at blue22sband@gmail.com for interviews, band photos or promo copies of Ready or Not.
www.blue22sband.com
Facebook/blue22s * Instagram/blue22sband * Twitter/blue22sband * Youtube/bluetwenty2s
Contact
Blue 22s
Stacey Turis
972-658-7535
www.blue22sband.com

Contact
Multimedia
Blue 22s Pop/Reggae Band Shows Heart for Valentine's Day by Donating Proceeds from Their New Single, "Ready or Not" to Bring National Awareness to ADHD.