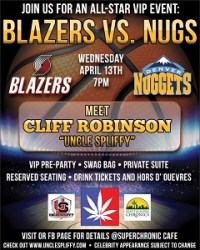 Portland, OR, April 05, 2016 --(
PR.com
)-- Join the SuperChronic Cafe as the Portland Trailblazers take on the Denver Nuggets for the Blazers last home game of the season!
In keeping with the "Active Cannabis Lifestyle" theme, The SuperChronics have created a new movement - The Health Conscience (THC) with High Standards; Part of this involves retired professional athletes (Cliff Robinson, aka "Uncle Spliffy") highlighting cannabis' properties to rehabilitate injuries and recover from intensive exercise.
Join the Pre-Party at Refuge Pdx! $10 Entry, 21+ Doors open at 4p.
Engage with industry vendors as the Blazers VS Nuggets game is streamed for those remaining at Refuge PDX. Tip off at 7:30pm.
Grow For Vets, 22tooMany, Dope Magazine, TJ's Organics, SB Ventures, Hi Dispensary, CannaCon Uncle Spliffy, The SuperChronic Cafe, Skywalker Delight Edibles, 420 Radio & More.
VIP Ticket holders get:
Access to a private NBA Suite at Moda Center
Personal Bartender
Private Bathroom
5-course appetizers
Meet Cliff Robinson, AKA Uncle Spliffy
Swag Bag!
More on FB @SuperChronic_Cafe