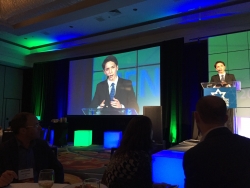 San Diego, CA, April 06, 2016 --(
PR.com
)-- Nate Goodman, age 17, attended and spoke at the annual
Jewish Funders Network International Conference
2016 at the Hilton Torrey Pines. He was hand-selected from the Jewish teen community to introduce
Randi Zuckerberg
for her keynote address at this well-attended event and luncheon. His introduction commemorated the 10th anniversary of the Jewish Teen Funders Network and described the nature of the organization and its aspirations. He also enumerated a detailed list of Randi Zuckerberg's accomplishments. Goodman had the opportunity to interact with several notable entrepreneurs, philanthropists, business people, and politicians. Randi Zuckerberg was an executive at Facebook and is currently the CEO of her own production company, Zuckerberg Media. She is also a well-recognized philanthropist in the Jewish community as well as a Broadway Actress and Reality TV Star. Ms. Zuckerberg's keynote speech discussed the immense impact technology and the Dot.com era has had on our lives. She has a special interest in promoting women in STEM (Science, Technology, Engineering, and Math). The Mayor of Jerusalem,
Nir Barkat
, CEO of the Jewish Community Foundation, Jeremy Pearl, Senior Vice President of Hillel International, Tim Cohen, and Managing Director of the Alpha Epsilon Pi Foundation, Jay Feldman, all spoke with Nate Goodman personally after his speech. The Mayor of Jerusalem invited him to his office when Nate represents JITLI this summer in Israel. It is rumored that the mayor has aspirations to become Prime Minister of Israel. Nate is one of eleven students in the United States who will be attending JITLI (Jacobs International Teen Leadership Institute) this year in Israel. This is a highly selective program, sponsored by the Jacobs family, whose mission is to bridge the gap between Jewish American, Jewish Israeli, Arab Israeli, and Palestinian high school students. Nate Goodman is a junior at Canyon Crest Academy (CCA) in San Diego, California, rated 89th best high school in the country, 15th best in the state of California, and 1st in San Diego County. It is a highly competitive academic institution, attracting the most qualified students. Many of CCA's graduates go onto study at highly ranked colleges and universities including the Ivy League. Nate Goodman is the founder and CEO of his own production company,
Roark Film Enterprises
, which has produced a number of award winning videos, some for the Jewish community.