Looking for FinTech Training? The First FinTech School is Here
Led by Entrepreneurs & Industry Thought-Leaders, the FinTech School Seeks to Train Millions of Financial Services Professionals on the Vital FinTech Innovation Skills to Lead Digital Transformations and Launch New FinTech Products & Services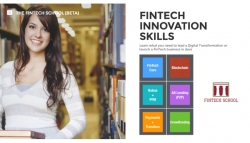 San Francisco, CA, April 06, 2016 --(
PR.com
)-- With over $50 Bn invested in FinTech since 2010 and large financial institutions scrambling to bring their workforces up to speed, there's an obvious need for corporate training to ramp up a steep learning curve and learn the basics of Financial Technology (aka FinTech) in order to evaluate future growth opportunities or take deep-dives on Robo-Advisors, Blockchain or P2P Lending to mention a few segments.
For innovation leaders the
FinTech School
offers the necessary toolkit to spearhead a bank's digital transformation. For entrepreneurs, the curriculum represents the practical training and mentorship needed to launch a FinTech business in days.
Taught by FinTech entrepreneurs and thought-leaders, the FinTech School is action driven and highly practical, which is a major distinction versus the recent online courses published by major universities. Each online intro course is equipped with the 10,000 foot view of the landscape to identify the key players in the ecosystem, understand investment trends and business models to properly formulate a build vs. buy decision. As a 201 level, each course has an in-depth analysis of the Fin (e.g.economics and consumer demands) and the Tech (e.g.key components to integrate and overall execution strategy) per FinTech segment followed by a 301 course on regulatory affairs and compliance. A capstone project wraps up each track to actually implement a FinTech business.
Their beta curriculum includes a FinTech Core class as well as deep dives on five other segments including Blockchain, Crowdfunding, Robo-Advisors, P2P and Payments & Transfers. They also have plans to offer InsurTech and Cybersecurity later this summer.
In exchange for funding or sponsorship dollars, the FinTech School will offer unlimited free access to its online curriculum for your entire workforce as a white-label solution as well as discounted onsite training.
Contact
FinTech School
Amilcar Chavarria
415-574-7834
http://www.fintechschool.com/

Contact