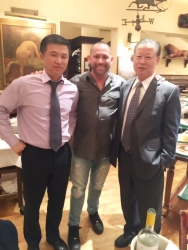 Pyongyang, Korea, North, April 25, 2016 --(
PR.com
)-- David Sugarman, CEO of Sugarman World Enterprises, met with the DPRK Ambassadors in New York City on Friday, April 22 to discuss tensions between the U.S. and North Korea. The Ambassador extended an invitation to Sugarman to visit the DPRK and tell his own story of the country. The discussion also included American prisoner Otto Warmbier and Sugarman's access to basketball stars and equipment.
"I've maintained a strong relationship with the DPRK Ambassadors through open lines of communication and my willingness to listen to what they have to say," said Sugarman. "They do the same for me. They heard me out about my concerns for
Otto (Warmbier). We discuss a lot during out chats, it's not like a business meeting where you walk in with an agenda, so when they invited me to North Korea, I listened to what they had to say."
In a live news broadcast on CNN during the launch of the #BringBaeBack campaign (in February 2014), Sugarman offered to take the place of Bae in a North Korean prison camp. Although the offer was not an option, it did start a discussion about
Sugarman visiting the country. In an invitation from the Ambassador on Friday, Sugarman would be visiting the country and perhaps visit with some of the basketball players.
"They know that if I was to visit, my priority would be Otto (Warmbier)," said Sugarman. "But if the fact that I am an agent gets me through the door, then I will take it. I've been transparent in all of my discussions with the Ambassador that I believe the tensions are exacerbated by the imprisonment of American citizens."
Beyond the invitation itself, there were no further details discussed during the meeting about Sugarman visiting North Korea.
Sugarman World Enterprises is the parent company to SugarTime, Inc. The Agency and offers consulting services in the fields of: brand management, lobbying, marketing, public relations, social media, sponsorship/endorsement and business development. Sugarman World Enterprises was created following the expansion of David Sugarman's businesses to New York in 2013.
www.iamdavidsugarman.com