University of Maryland Partners with iGrad for Financial Literacy Education
The University will integrate the award-winning online platform to ensure students succeed in making effective financial decisions.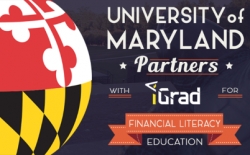 College Park, MD, May 04, 2016 --(
PR.com
)-- Financial literacy leader iGrad announces a new partnership with Maryland's largest university. Founded in 1856, the University of Maryland will encourage students to develop critical financial skills through engagement with
iGrad's adaptive learning platform
.
The University's Office of Student Financial Aid (OSFA) will offer support to students, or Terps as they are fondly called after the school's mascot – a Terrapin, through the newly launched Terp Budget Course. The iGrad designed course will assist students in developing a strong financial foundation from which to work in achieving their life goals.
"It is very important to have a good foundation when it comes to saving and spending, and college is a good starting ground for 'real life'," says Monique Boyd, Director of Financial Aid. "Our chief goal is to impact the way students think about their finances, and ultimately how they manage their money in the future."
The Terp Budget Course is designed to both assess the student's financial skills and assist them in developing an action plan. Using videos, calculators and worksheets, the students will define their personal financial goals, establish a budget, and build critical knowledge in money-saving techniques, establishing credit and smart borrowing.
"The mission was to provide a solution that would empower the University's students to effectively manage their money, limit and repay their debts, and begin successful careers," said Kris Alban, iGrad's Vice President. At this stage, we are able to leverage a deep knowledge and skill set to design solutions that resolve our schools' specific challenges."
Students have reacted in a very positive manner - "iGrad has been a surprisingly good resource because it is easy to understand and concise. The best thing I have learned is how to budget expenses. Having a budget is good for long term happiness," confirms University of Maryland Student John Groeger.
To bring awareness to the program, the University's Office of Student Financial Aid (OSFA) has strategically launched the new course during National Financial Literacy Month and opened up the iGrad platform campus-wide. Students will create a profile and immediately begin to experience content customized to their needs. iGrad's interactive tools on financial literacy and planning and full library of resources including current articles, videos, webinars, educational games and calculators, will guide students through financial aid questions, how to make good credit decisions and prepare for the future. The platform also offers a job and internship search tool.
"Their timing is perfect – iGrad is celebrating National Financial Literacy Month by launching a treasure hunt on the platform where students can compete against one another and track their progress on a leaderboard," adds Alban. "We are very excited about partnering with the University of Maryland and assisting their students in achieving great things."
About The University of Maryland: The highly regarded public University of Maryland was founded in 1856 and has the distinction of being the flagship institution of the University System of Maryland. With nearly 38,000 students, it is the largest university in the Washington Metropolitan Area.
The University, ranked one of the best National Universities in the US by US News and World Report (2016), has a rich academic community and is a research partner to many federal agencies including National Institutes of Health, the National Aeronautics and Space Administration (NASA), the National Institute of Standards and Technology, and the Department of Homeland Security.
With a mission to educate students and advance knowledge in areas of importance to the State, the nation, and the world, the University offers over 100 undergraduate majors, and 120 graduate programs. The Terp Budget Course was developed to support the school's long-standing mission.
About iGrad: iGrad is privileged to partner with over 600 schools across the country to provide an industry-leading, customizable platform, which connects over 1.2 million students, as well as alumni and staff, with the tools needed to succeed in the real world of personal finance. iGrad is the only online community providing a comprehensive and customized financial literacy program featuring career assistance for students and graduates, user-specific financial education courses, and video-based student loan entrance and exit counseling. iGrad's recent accolades include:
• 2013, 2015 & 2016 Education Program of the Year, the Institute for Financial Literacy
• Best Product of 2013, 2014 & 2015, University Business magazine
• Outstanding Consumer Information Award, Association for Financial Counseling, Planning and Education (AFCPE).
More Information: http://Schools.iGrad.com; Edgar Rodriguez, PR@iGrad.com; (760) 487-8414; http://www.financialaid.umd.edu/literacy/index.php, Jemika Hansberry, Jema@umd.edu.edu (301) 314-2047
Contact
iGrad
Edgar Rodriguez
760-487-8414
http://Schools.iGrad.com
http://www.financialaid.umd.edu/literacy/index.php, Jemika Hansberry, Jema@umd.edu.edu (301) 314-2047

Contact