UR2.Global Self-Esteem Project Showcasing the Arts Names Musician - Premik Russell Tubbs as Honorary Artist-In-Residence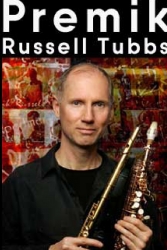 Tallahassee, FL, June 07, 2016 --(
PR.com
)-- UR2.Global names renown multi-instrumental musician, composer, arranger, and producer Premik Russell Tubbs as its 2016 Honorary Artist-in-Residence for its humanitarian project which showcases the ARTS to uplift the self-esteem of humanity. Premik has worked with Sting, Lady Gaga, Whitney Houston, Herbie Hancock, Carlos Santana, and numerous other talented artists.
According to Co-Founder and President - Amelia Kemp, Ph.D., LMHC, Premik has graciously commissioned UR2.Global with one of his instrumental songs titled: The Journey for what is being named the UR2.Global Premik Artists Challenge. Whereas, singer/songwriters, poets and those who do spoken word from all over the world are allowed to use his song as the background music to their artistic creation that must promote self-esteem, self-love and self-confidence. All entries will be showcased on the UR2.Global site and every entry will receive an award.
Complete submission guidelines may be found on the website at UR2.Global and must include the word "Journey" in the new title, such as "The Journey to Self-esteem" or "Self-Esteem's Journey" or "A Journey to Self" or "I Journey Within," etc. Those are simply examples that may be used but the artists' creativity for their choice of title is endless. All age artists are welcomed to participate, starting from students in high school planning to pursue arts careers, to college students pursuing arts careers, to professional artists, to retired senior citizens who thought it was too late. The deadline for submissions is October 1st, 2016.
Premik states that he was attracted to the UR2.Global project after listening to the project's theme song "I'm Good Enough" and appreciated the site's mission to uplift the self-esteem of mankind and help all the world's people understand that not only are rich or famous people in the world like himself valuable, but you are too! (Hence: UR2).
"Premik's humble attitude and belief in this project has been something to behold," states Dr. Kemp. "It's not everyday that someone with this level of notoriety is able to not get caught up in hype or illusion of superiority and remain consciously aware that the masses are in fact equally valuable, talented and worthy. An understanding that is further reflected in his album titled: 'Mission-Transcendence', since to transcend something means to go beyond perceived limits or division. And in a celebrity-crazed society where many perceive a division between the well-known and less known, it's so meaningful when musicians like Premik reach out to the masses of artists who also have much to offer the world. It is in that spirit that UR2.Global invites the world-community of artists to take advantage of this opportunity to create song lyrics and spoken word poems to his instrumental song: The Journey, knowing their awards are guaranteed."
Co-Founder - Lamarr Kemp, MBA - stated that "we had many discussions about Amelia's desire to present awards to artists without there being a competition. I had a little trouble with it at first because I come from a highly competitive family and the idea of receiving an award without a competition was foreign to me. I felt that without a competition no one would emerge as being better, special or outstanding. But she said that was exactly the point, that we were 'all special expressions of the Creator.' And to my surprise, I felt the immediate empowerment in that perspective, when imagining what the world would be like if every person was viewed as someone with something special and outstanding to offer that we couldn't wait to see or experience." Dr. Kemp agrees, stating that "UR2.Global believes that a profound sense of esteem and even world peace could be amassed from such a respectful, honor-filled thought where one's self-esteem is not based on what a person does, but on who a person is, at their core, as equal soul-filled creators."
The UR2.Global Self-esteem Project is a project of The Sacretherapy Institute (pronounced sacred-therapy with a silent "d") that showcases the arts, i.e., music therapies, psychodramas, visual arts and literary arts of all genres for the upliftment of mankind. Daily submissions are welcomed for several arts categories that promote self-esteem. The Sacretherapy Institute was created as a result of Dr. Kemp's book titled: From Psychotherapy to Sacretherapy which was also written to uplift the world after having been a psychotherapist for 20 years. During which time, she was dismayed by the number of people on a global scale that didn't see their innate value and worth. Therefore, with her also being a singer/songwriter she recalled how uplifting her use of music and psychodrama had been therapeutically, and decided to merge music with healing by performing and using the stage name: Dr. K's Music Therapy. As such, UR2.Global is the culmination of this merger with the ARTS and the Institute's desire to uplift the self-esteem of humanity.
For more information visit
www.UR2.Global
or contact Linda Thrasher at UR2.Global@gmail.com.
Contact
UR2.Global
Linda Thrasher
850-443-1334
UR2.Global

Contact