AstroTurf and SYNLawn Brands Join APT and SportGroup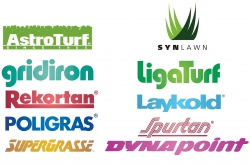 Harmony, PA, July 08, 2016 --(
PR.com
)-- APT Advanced Polymer Technology's business as a member of SportGroup® has some exciting news:
After a period of remarkable growth, the time has come for the next chapter in the history of the SportGroup®, and indeed of the sports surfacing industry. In order to complete the line-up of products and systems, the AstroTurf® and SYNLawn® brands will join the SportGroup. We will be able to truly support American clients as a full service provider of sport and recreation turf.
"I have been employed with the SportGroup® since 2009, having had the privilege of serving as President and Chief Operating Officer of APT Advanced Polymer Technology Corp. in Harmony, Pennsylvania. Over the last several years, I have witnessed an unparalleled growth in the sport surfacing market, especially the athletic sport turf and landscape turf segments. It has been extremely gratifying to see the hard work of our and AstroTurf's sales, installation and R&D teams pay off and to be able to finally join forces to become the quality leader in America." - Andreas M. Schulze Ising
This acquisition comes at the right time and will create one of the largest outdoor sports surfacing companies in the world. Not only that, it forges a team of dedicated sports surfacing brands that is focused on introducing the most cutting edge technologies. Together, the complementary brands offer more selections to clients, including:
· More FIFA, FIH, and World Rugby-certified systems and pitches than ever before
· Highly evolved American Football turf systems selections
· Top-tier Olympic and World Cup field hockey surfaces
· Industry-leading baseball and softball systems
· More RootZone® products and installations than any other provider on the market
· Legendary running track brands from APT Advanced Polymer Technology (APT), including Rekortan®
· Largest and most efficient installation force worldwide
· Leading EPDM rubber manufacturing from Melos®
· Leading tennis court surface systems from APT, including Laykold®
· Most advanced "green" technologies from APT, including TuftGuard® and Qualipur® adhesives
SportGroup, founded in 1969, is a global leader in artificial turf systems and running tracks, with a >€340 million annual turnover (2015) and around 1,000 employees. The company maintains production plants in Europe, North America and the Asia-Pacific region and operates in more than 70 countries. It has manufactured and installed more than 7,000 fields and 16,000 tracks. It is a supplier of both fields and tracks to the Olympic Games. Its leading core companies include Polytan®, APT®, Melos®, with brands like Rekortan®, Spurtan®, GridIron®, LigaTurf®, Supergrasse®, Poligras®, Dynapoint® and Laykold®.
The union of these global brands will usher in the next era of sophisticated sports surfacing for today's highly trained athletes.
APT looks forward to all this partnership has in store! As always, sales reps across the country and the team in Harmony, Pennsylvania and the new team in Dalton, Georgia, are available to answer any questions. Please don't hesitate to contact your regional representative or Sydney Stahlbaum at 512-423-5164/ sstahlbaum@astroturf.com for more information.
Contact
APT Advanced Polymer Technology
Jessica McManus
724-452-1330
advpolytech.com
sportsbyapt.com

Contact