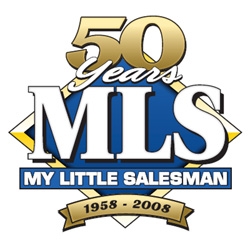 Eugene, OR, February 01, 2008 --(
PR.com
)-- MY LITTLE SALESMAN has expanded its sales team to better support its advertisers' needs. Michael Butcher and Paige Hart have joined the MLS, Inc staff in two newly created positions.
As the new Internet and Web Services Sales Representative, Michael Butcher will be helping customers evaluate and implement appropriate digital sales and marketing tools developed by the MLS Internet Department. Michael joins the sales team after 18 months as a Customer Service Representative for the MLS Internet Department. "Michael's prior role in the Internet Department, together with the success he had working with our customers, makes him uniquely qualified for this position," explained National Sales Director Bernie Molinski. "As MY LITTLE SALESMAN expands its line-up of online sales and marketing products, Michael's skill set will help our advertisers make wise decisions and maximize their results."
Paige Hart joins the MLS sales team as National Show & Sell Representative and will focus on helping advertisers get the most out of the Show & Sell and List & Sell sections in the MLS Truck & Trailer and MLS Heavy Equipment catalogs. Paige comes to MY LITTLE SALESMAN with a successful track record in sales, most recently with VP Consulting in Eugene, Oregon. "With Paige on board, we now have a dedicated resource for this advertising category within each catalog. She will be able to provide advertisers with cost-effective solutions for their particular selling situation," commented Molinski.
The timing of the hires may seem peculiar to outsiders eyeing slower economic growth, but MY LITTLE SALESMAN sees its new team members as springboards through the downturn and into the recovery. "We are getting mixed feedback from our advertisers about the economy as it pertains to our industries," said Molinski. "Many are saying that after the first quarter they expect revenues to normalize and growth to follow in the second half of the year. With Michael and Paige on board, our team is ready to help our customers move their inventory and find items they need to purchase at each stage of the economic cycle."
About My Little Salesman®
MLS, Inc., located in Eugene, Oregon, publishes MY LITTLE SALESMAN Truck & Trailer Catalog and MY LITTLE SALESMAN Heavy Equipment Catalog. Founded in 1958 with a single print publication, MLS, Inc. now serves the heavy construction, aggregate and mining, forestry and logging, and agricultural industries with a multi-channel network of print publications, Web sites and digital editions that connect buyers and sellers throughout the world. MY LITTLE SALESMAN is located on the web at www.MyLittleSalesman.com.
###