What Your Dog Knows About "Alternative Facts" and "Fake News" That You Don't
A new book, entitled "Perceiving Purpose" by author Sanjay Gupta, offers a model for how to examine the truth of what we see by understanding how dogs perceive the world.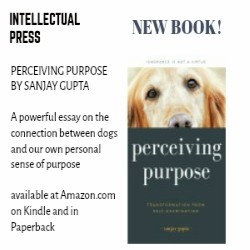 New York, NY, January 23, 2017 --(
PR.com
)-- A new book released last week by a globe-trotting business executive from Connecticut who has spent his career advising Fortune 100 CEOs and Chairmen and members of the Forbes 50 wealthiest Americans offers insights into how we can combat "fake news" and "alternative facts" by understanding how dogs perceive the world.
The author of the book, Sanjay Gupta, an Oxford-educated serial entrepreneur, draws his insights not from his experience of working the rich and powerful, but from the mind of a Basset Hound. His new book, titled
"Perceiving Purpose"
is an introduction to a what he hopes will be a movement towards self-examination of one's beliefs.
"I've been amazed by how much dogs can teach us about life, and the importance of being honest with oneself," said Gupta. "They offer insights into our behavior because they operate on a fundamentally different level -- they don't lie. We have so much more to learn from them."
Gupta states that he began looking at how dogs make choices and applied them to traditional philosophical and cognitive frameworks of human behavior, and believes there is much to be learned. "I call their form of cognition, 'Perceiving Dog' -- which requires a level of self-examination that we don't normally do every day." Gupta continued, "If we 'perceived' the world more critically, like dogs do, 'alternative facts' and 'fake news' would not be such an issue."
Gupta drew his insights from his dog; a Basset Hound named Cody, who was the inspiration for a system of simpler ideas about how humans make decisions, and what guides their motivation. He asserts that "'fake news' and 'alternative facts' are not the problem - our lack of introspection into why we believe the things we do is the problem.
"Philosophy, religion and the broad segment of the science-based self-help genre have largely failed us in trying to answer some fundamental questions about how to make choices that are the 'best' for each one of us. When I observed how my dogs were making choices, I realized we had missed the point about what is important. We can't just believe that something is important to us, or assume that something is true or false -- we also have to know why, as well."
Gupta argues that people everywhere need to understand the role of honesty in their lives, and why just "layering" ideas of how to be "better" don't work. "Dogs are amazing because their "operating system" is not as simplistic as scientists would have us believe. They have a consciousness. They have emotions and can sense them as well. They understand right from wrong. But, at the same time, they don't have this learned ability to 'lie' to themselves or others -- they continually evaluate the world around them, seeking the truth. Their honesty, combined with their sense of purpose, was my inspiration for a blueprint of how we can lead more fulfilling lives."
Commentators on Gupta's system assert that he is on to something useful. Alexander Honkola, a research scientist, and entrepreneur based in California seemed to agree with Gupta's underlying thesis. "I'd been wondering what internal biases and maladaptive beliefs I needed to exile myself from in order to take on the next level in my work, and (Gupta's) book provides the perfect framework for doing so... I'm still working through some of the exercises and questioning my initial answers around 'Values,' but this alone is a valuable exercise."
Others have found Gupta's insights to be useful in understanding their ideas about what is important. Daniel Christensen, a senior executive at a public company with almost 40 billion dollars in annual revenues, said he gained the perspective. "After reading this book, I was content to lay by the fire and feel like I was doing something meaningful, rather than feeling the learned human guilt about wasting time. Follow the dog -- our trusted ally -- to a simple, meaningful life full of purpose and bereft of blame, guilt and dishonest behaviors that ensnare each of us..."
Gupta considers Christensen's revelation an example of how understanding one's perception of purpose is a fundamental element of happiness. "Christensen's reaction is not at all a surprise to me. Many busy executives with high-powered roles need to step back and reflect, but they don't have the tools of how to do that. Mental health professionals and self-improvement gurus will tell you to set aside time to be "introspective," but they don't tell you how to do it. We need to look at the "how" again, which is the point of looking at dogs as our guide."
Other commentators have also found the insights from the dog model, which Gupta jokingly calls "Dognosticism," a valuable contribution to how we understand life's purpose. Said William Spear, a best-selling author of, commented "Gupta masterfully connects the dots between one's values, goals, beliefs, and role in life, (offering) a plausible answer to "Why am I here?"
Gupta, who was born in raised in New England, studied Philosophy at Georgetown University, and then later completed his graduate studies at the University of Oxford and studied leadership at the Harvard Kennedy School of Government. He notes that writing is somewhat of a new vocation given his career as an entrepreneur and advisor, but says that it is entirely natural within the frame of his life. "Most people I meet can't figure out how someone trained in philosophy would be useful to a billionaire. Others can't understand how a business guy working with billionaires and CEOs can even write. But, most people also don't understand themselves, to begin with -- so it is hard to explain my path when people don't even know their sense of purpose." In recognition of his professional accomplishments and commitment to society, Gupta was honored by the World Economic Forum (Davos) in Geneva as one its Young Global Leaders, an honor bestowed to fewer than 100 people around the world every year.
"Perceiving Purpose," which is Gupta's first book, is currently available through Amazon in both ebook and paperback format. Gupta also lectures and consults on his framework for individuals and organizations, particularly in the board level, to reconcile conflicts and create consensus. Inquiries can be directed to ip@intellectualpress.
About Intellectual Press: Intellectual Press is the publisher of "Perceiving Purpose." Known as the "Imprint of Ideas," Intellectual Press is committed to bringing new and thought-provoking concepts to readers across the world.
Contact
Intellectual Press
Liliing Wang, Executive Assistant
+1 212 498 9272
www.intellectualpress.com

Contact