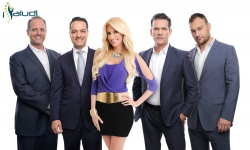 Miami, FL, March 07, 2017 --(
PR.com
)--
¡Salud!
, the first Latino health TV show, has been launched into the Hispanic market appropriately during the month of March which happens to be National Nutrition Month. Nutritionist and top doctors in their health professions have come together to bring the first ever health TV show, for the Hispanic community, into a modern era. ¡Salud!, a unique health TV show, not only addresses the viewer's everyday health concerns by the show's top health experts but also features celebrities who weigh in on trending health topics.
A Joint Pew Hispanic Center and Robert Wood Johnson Foundation Research Report has found that Latinos are the racial and ethnic group least likely to visit the doctor. More than one-fourth of Latino adults in the United States lack a usual healthcare provider and almost half of Latinos never visit a medical professional during the course of the year. Other reports show that Latinos are more likely to delay healthcare for an illness or drop out of treatment when symptoms disappear.
¡Salud! has partnered up with iconic Hispanic actor, Victor Camara, of Vioss® Cámara Productions, a production company dedicated to produce HD content with the commitment of an experienced, talented professional crew and state-of-the-art technology equipment.
¡Salud! prestigious, bi-lingual panel of experts are composed of:
Jenny Patrizia (Nutritionist/Host)- Jenny Patrizia, with a degree in Nutrition, Psychology and a minor in Sociology, is a prominent health, beauty, and nutrition expert, as well as a celebrity TV and radio talent personality, with a strong following in the national and international Hispanic community. Known for her unique, informative, and motivational approach to health and wellness, Patrizia relates to women in particular and understands the misconceptions they may have about their body image, educating them on how to eat healthy in order to achieve their goals. Patrizia's notable appearances, TV hosting and contributions include Univisión's Despierta América, Telemundo's Un Nuevo Día, CNN, ESPN, CBS, NBC, Arrebatados con Maria Laria, Cosmopolitan and People magazines Espanol, as well as Venevisión Tu Desayuno Alegre segments.
Dr. Gosha- Dr. Georgiy Brusovanik (Dr. Gosha), MD is a minimally invasive spine surgeon. He trained at Duke University with both orthopedic and neurosurgical faculty. He specializes in helping patients with back and neck pain. Dr. Gosha is well known locally and internationally. He has helped numerous professional and Olympic athletes, executives and celebrities. He always attempts to help patients without surgery, but when surgery is indicated, his way of performing surgery minimizes pain and speeds recovery. Dr. Gosha has appeared on CNN Espanol and Us News and World Report.
Dr. Raul Gonzalez- Dr. Raul Gonzalez can truly be considered a man of value having the skills and knowledge to give you a beautiful smile. Dr. Gonzalez attended the University of Medicine and Dentistry of New Jersey where he was granted his DMD degree, he also obtained a B.A with major on Biology at the Rutgers University. Dr. Gonzalez does not just think of dentistry as his occupation but rather his passion. He provides a unique treatment called "Microdentistry." This treatment allows him to treat dental and gum disease with lasers in a minimally invasive and non surgical way. Dr. Raul Gonzalez has been seen in top Hispanic TV stations and media magazines.
Dr. Adonis- Dr. Adonis is recognized as the Miami Expert in the field of Healthy Aging and has helped hundreds of patients feel good regardless of age. Using functional medicine, Dr. Adonis identifies the root cause of the disease rather than just treating the symptoms. He believes that physical, mental, and spiritual well-being is the secret to health and it is his mission to help all people achieve Healthy Aging.
Dr. Gorin- At the Institute of Sports Medicine and Orthopedics, Dr. Gorin uses only the latest techniques and advances in orthopedics, including those in arthroscopic surgery. With a background in Sports Medicine, he tries first to keep his patients out of the operating room either through Regenerative Medicine techniques or rehabilitation. His philosophy is to accurately evaluate and diagnose patients and guide them through their journey to improvement. If surgery is necessary, you can be assured you will be provided with a superior level of surgical care. Following your surgery he will guide you through post-operative rehabilitation so you can quickly return to your normal daily activities.
The distinguished panel of health experts help launch the first Hispanic health TV show into the modern era of medicine. ¡Salud! aims to awaken the Hispanic community and help inspire them to take a more active role in their well-being and lifestyle. ¡Salud! TV hopes to make "being healthy the new fad for 2017."