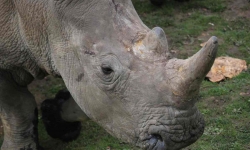 Toronto, Canada, March 09, 2017 --(
PR.com
)--
IAmAction.com
, a new social enterprise for being good and doing good, is offering a $25,000 reward to anyone with information leading to the arrest of the poachers responsible for killing a young rhino for his horns at a French zoo. According to reports, every month, 100 wild rhinos are being hunted for their ivory horns, which can be sold for around $60,000 US. So many wild rhinos have been hunted and killed by poachers, that poachers are now targeting animal sanctuaries and zoos in search for better quality horns.
On Monday night, March 6, one or more poachers are believed to have broken into the Thoiry Zoo in France, and forced their way into an enclosure where three rhinos lived. The poachers shot Vince, a four-year-old rhino, and cut off one of his horns with a chainsaw, while the other two rhinos escaped in terror. This is Europe's first serious poaching incident.
Alex Haditaghi, founder and CEO of IAmAction.com, believes that "we all have a responsibility to protect endangered species, both for their sake and for the sake of our own future generations." Mr. Haditaghi continued by saying, "the presence of wildlife in our world is a treasure, one that we will never be able to reclaim if it disappears."
IAmAction.com is urging anyone who may be able to identify the poachers to reach out to the I Am Action team or the
Thoiry Police Force
.
About IAmAction.com:
I Am Action's platform empowers individuals, not-for-profits, corporations and celebrities to come together to solve global issues. The platform translates strategy into actions that lead to measurable and impactful results. The new platform is setting the benchmark for philanthropic efficiency and transparency around the world. They are committed to keeping a "Lifetime Legacy Record" of each action and impact associated with it.