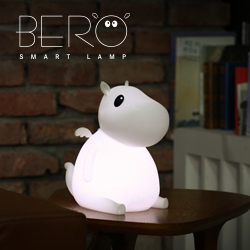 Los Angeles, CA, March 21, 2017 --(
PR.com
)-- Nyllili Limited has developed a character story called JINNIA World.
Bero is one of the 5 main characters along with Tuly, Kuma, Keto and Vesi in JINNIA World. Bero is the spirit of light and the product is a smart character lamp that realizes various light related functions with smartphones or its sensor, meeting its character concept as the spirit of light.
The Bero is a Smart Lamp with App and Sensor.
Two different ways are available for you to turn Bero Lamp on and off.
You can knock its body twice or use the application to turn the light on and off.
So, you don't have to look for the switch to turn Bero on or off without your smartphone.
You only need to knock its body twice.
Bero is a magical lamp that can give various expressions for your living space and has a function to change colors by shaking your smartphone.