See the Most Powerful Software-Upgradable Video Collaboration Camera In-Person
Huddly Inc. on stage and in the hall at Enterprise Connect 2017.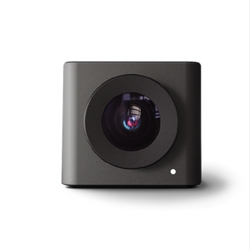 Palo Alto, CA, March 22, 2017 --(
PR.com
)-- On March 29th, at 1pm,
Huddly Inc.
is taking the stage of Enterprise Connect with the panel session "Telepresence Performance on an SMB Budget: How Cutting-Edge Tech Gets You There."
Huddly camera solutions are combining quality optics, computer vision, and even machine learning in ways that vastly improve the videoconferencing user experience without the $100,000 telepresence price.
Casey King, Huddly's Chief Innovation Officer and a thought leader in IT is going to speak about how companies can deliver dramatically better-quality video to its users at the lowest possible cost. Andrew Davis of Wainhouse will host the panel session.
Casey is a veteran technologist with 34 years of working experience in both the enterprise and consumer space. Most recently, he was the long-tenured CTO at Lifesize and part of the original team that brought HD video to market. Casey also spent 13 years at Apple, where he was a founding member of the Quicktime team.
After securing a strategic partnership with NEC and winning a highly-competitive deep learning grant from the government, Huddly is gaining momentum. Come and see the world's smallest intelligent collaboration camera that combines the ultra-wide 150-degree field of view with the cutting-edge software at Enterprise Connect, where Huddly's first hardware product is going to be displayed at the Zoom booth #727.
Register to meet Huddly at Enterprise Connect: https://www.huddly.com/meet-huddly-at-enterprise-connect-2017-in-orlando
Moderator:
Andrew Davis | Partner, Wainhouse Research
Panelists:
Casey King | CIO, Huddly
Aurangzeb Khan | CEO, Altia Systems
Bryan Hellard | Director of Engineering, Array Telepresence
Scott Wharton | VP & GM, Video Collaboration Group, Logitech
Location: Osceola A
Date: Wednesday, March 29
Time: 1:00pm - 1:45pm
Track: Video
Pass type: Entire Event, Tue-Thu Conference - Get your pass now!
Contact info
Anzhelika Osmanova
Marketing, Huddly
anzhelika@huddly.com +47 967 090 13
Casey King
Chief Innovation Officer, Huddly
casey@huddly.com
About Huddly
Huddly was created to elevate communication with compelling and intelligent vision products for everybody. Huddly develops an intelligent software-upgradable platform that powers the world's smallest and most powerful video collaboration camera - Huddly GO, the first product in the Huddly hardware portfolio.
Huddly's ultra-wide field of view, unique small factor, amazing light compensation and intelligent software features deliver new meeting experiences which are intuitive, simple and deliver breath-taking video experiences.
Contact
Huddly
Anzhelika Osmanova
004796709013
huddly.com

Contact