Young Performer Promotes Anti Bullying Program in Honor of Brendan Carr
Young performer in the Long Island NY (Nassau County) area splits money collected for chance to travel abroad to promote anti-bullying program after learning that talented teen Brendan Carr of Long Beach, NY took his life after having been targeted by a local bully. Brianna McDonough, 16, calls on other young musicians and activists to support the work of Long Island Coalition Against Bullying in order to fund antiviolence programs in Nassau and Suffolk Counties and beyond.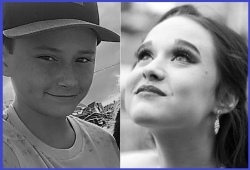 Long Island, NY, April 04, 2017 --(
PR.com
)-- Brianna McDonough, a 10th Grade honors student at Sanford H. Calhoun High School in North Merrick, is thrilled to represent the Bellmore - Merrick Central High School District as a soprano vocalist in American Music Abroad's Freedom Tour this July 2017. AMA has, over the past 41 years, opened doors for over 35,000 musicians to exchange their talents and experiences while performing with and for others all over Western Europe. Brianna is the only student in the Bellmore – Merrick Central High School District to have been given the chance to participate in the Freedom Tour this year.
The AMA program is not free and Brianna does not come from a family of great means. So, she has been entering vocal contests and doing odd jobs to help her parents defray the costs of her trip, including setting up her own GoFundMe page (details below).
Brianna believes musicians have a responsibility to be of service to the communities they live in. "The most important thing about music," she says, "is living it and loving it. Trophies are nice, but I want to know that somewhere out there, what I sang and did really helped somebody." In keeping with that mindset, Brianna had arranged to put any excess funds from her GoFundMe initiative into a scholarship account, so that another talented and community-involved teen with fewer resources than herself could have the chance to go on the AMA Freedom Tour in 2018.
But that was before she and her family learned very sad news.
Last September 2016, fellow musician Brendan Carr, drummer of the Long Beach-based rock band Awkward Silence, tragically took his own life after having been targeted by a local bully. Brianna was deeply saddened to learn that Long Island has lost an incredibly talented 13-year-old due to a very common problem. Like so many of us, Brianna understands first hand having to struggle past the "awkward silence" and social ostracization that comes with bullying. Learning of Brendan's struggle inspired her to use her short opportunity to shine to help other young people still suffering from the deep personal pain that comes with being abused by a peer.
In honor of Brendan Carr, who should still be jamming with us today, 50% of all proceeds Brianna collects on her GoFundMe page will now go to the Long Island Coalition Against Bullying (LICAB), which provides support, advocacy, information and referrals to targets of bullying and their families. 100% of any funds collected in excess of Brianna's stated goal of $5,000 will be turned over to LICAB in remembrance of Brendan Carr. Those wishing to make a donation to both causes simultaneously, may do so at: www.gofundme.com/Brees2017TourAMA.
Brianna hopes her small gesture will increase community awareness and lead to the development of solid, effective solutions to this growing problem in our communities.
Brianna thanks Brendan's mom Julie Carrion for allowing her to do this in her son's memory and sends her condolences also to Kevin McAleese, Brendan's father. She wishes to acknowledge not only those who have issued her donations so far, but those who have encouraged her to overcome her own struggle with bullying and who have given her the chance to be part of the tour this summer, including: Stephanie Horowitz-Mulry (Calhoun High School Alumna, and former member of both the CCP and the On Tour Company) and Robin Hall (Director of Choirs at W.T. Clarke High School, East Meadow Union Free School District); all of the AMA Freedom Tour organizers; producer Benjamin "Benoir" Metzger (Arts in the Plaza, Studio Noir in Long Beach); performing artist Sammi Hoop. Many thanks too to photographers Seze Devres and Karen Dinan for the support and PR assistance. Thanks also to the many teachers and administrators from the Bellmore - Merrick Central High School District who have helped Brianna in her own struggle to overcome bullying. They consistently remind Brianna she is never alone and that no matter what joys or sorrows life may bring us, we must stand up, take a deep breath and
Just. Keep. Singing.
Contact
Brianna McDonough
Bree McDonough
BreeMcDonough228@gmail.com
347.638.5114

Contact