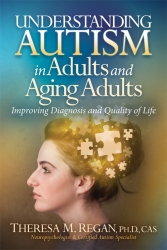 Peoria, IL, April 20, 2017 --(
PR.com
)-- IndieGo Publishing is proud to announce the release of "Understanding Autism in Adults and Aging Adults" by Theresa Regan PhD, as a paperback (9781946824004), a hardcover edition (9781946824011), and an ebook (9781946824028).
Dr. Regan is a rare combination of adult neuropsychologist (specialist in brain-behavior relationships), parent of a child on the spectrum, and Certified Autism Specialist. She has worked with adolescent through geriatric patients in medical settings for over 25 years.
When working with her patients and their families, Dr. Regan is often asked questions that need thorough answers to inform and reassure the autistic adult in a personable, realistic way that will meet their needs as they navigate daily life: What will happen when my daughter is a young adult trying to build relationships? Why has my middle aged father been misdiagnosed with bipolar disorder when he might be autistic, and lacks an effective treatment plan? What should we do about our aging mother who is showing increasingly rigid autistic behaviors and is misdiagnosed as having frontotemporal dementia?
To answer these questions and many more, Dr. Regan compiled her notes from many years of working with autistic individuals and crafted this one-of-a-kind resource designed to improve the correct diagnosis of autism spectrum disorder in adults. Filled with clinical stories that bring to life the concepts discussed, the book provides strategy-based interventions to address issues of personal and household management, medical care, communication, sensory processing symptoms, and emotional and behavioral regulation.
"The great strides we have made in understanding childhood autistic behaviors and interventions have lagged dramatically behind the needs of aging autistics," says Regan. "Children with autism grow into adults with autism. Understanding Autism in Adults and Aging Adults can serve as a resource that families and clinicians turn to again and again for ideas and practical suggestions to build a successful life plan for the adult in their life who has autism spectrum disorder."
James Runyon, Executive Vice President of Strategic Initiatives at Easter Seals in Central Illinois writes, "Understanding Autism in Adults and Aging Adults makes a significant contribution to understanding the challenges of adults with autism as they age. The case studies and illustrative scenarios highlight what is both shared and unique to each person with autism as they maneuver a 'neurotypical' world. The author doesn't shy away from tough topics including mental health, addictions, and navigating a complex healthcare system. This book is a must read for caregivers of children with autism as they assist in the transition into adulthood."
"Understanding Autism in Adults and Aging Adults" is available for wholesale purchase from Ingram as a paperback and hardback, and as a paperback and ebook with Amazon.com and other book retailers worldwide.